
Searching for Street Food in Exeter?
Take to the streets of Exeter, where delicious food is served day and night.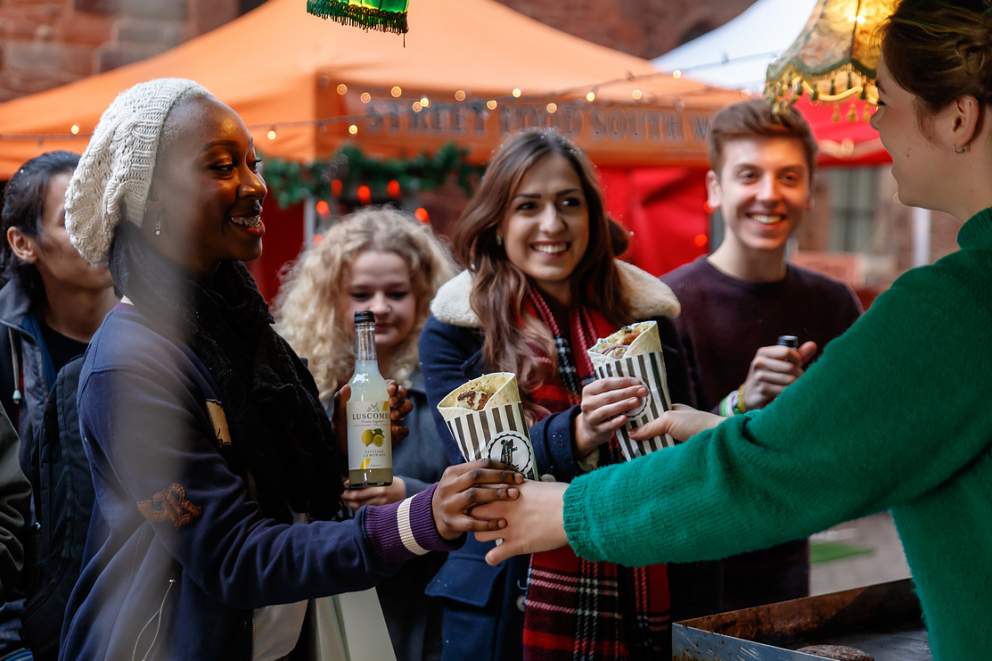 Street food is a great way to sample many different types of freshly cooked cuisine, and usually for a reasonable price too! Between May and September, Exeter's Street Food Market can be found in various locations where all kinds of food is on offer as well as a selection of drinks and live entertainment.
Here are just some of the places where you can find great street food in Exeter.
Night Market at the Piazza, Exeter
Wander around the Night Market at Exeter's Piazza and tuck into some great food while surrounded by beautiful views of the city (from June - September). Live musicians and artists create a special atmosphere. Dishes will generally vary from £3-£7. This is a perfect opportunity to support independent Exeter businesses, as the Street Food Markets place an emphasis on using the event to help the local economy.
Night Market at the Quay, Exeter
On the first Thursday of every month from May-September, an amazing food market appears at the historic Exeter Quays. Head down after work or take the kids after school to share some amazing produce. There's all manner of food including Spanish, American, Vietnamese, African, Caribbean and local produce. The relaxed atmosphere and live music makes this the perfect place to unwind before the weekend.
Streetfood at Southernhay Gardens
On the last Friday of every month from 11am-8pm, May until the end of September, Southernhay Gardens turns into a foodie's paradise. With fresh local food, drinks and entertainment on offer, this is the perfect all-day hangout for both families and groups of friends. Some great highlights of Streetfood at Southernhay Gardens include their streetfood market, gin bar and live music. Set up in the centre of town, there will be tons of mouth-watering meal options all right on your doorstep!
Pick up a copy of Taste Buds magazine in Exeter for more mouth-watering content, including Exeter restaurant reviews and guides for eating out in Exeter. There are tons of amazing places to eat in Exeter so to be sure that you don't miss out.