
Putting Home into Grown
Devon offers some of the best produce in our pubs, restaurants, cafés and shops. Chrissy Harris highlights the places serving 'proper local'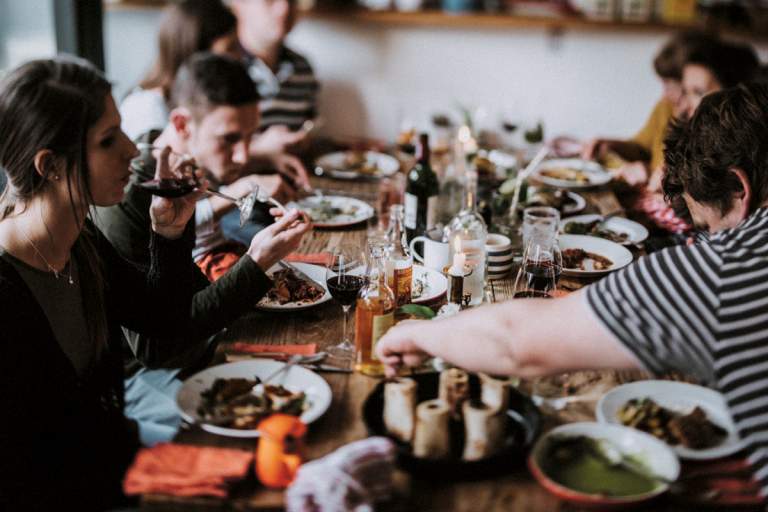 The Bear & Blacksmith, Chillington
This welcoming pub is not named "ultra-local" for nothing. It's proud to support local suppliers and serves a delicious range of locally grown produce and drinks. The menu features the freshest fish and seafood from the shores surrounding the pub, along with a selection of Devon's finest meat sourced and butchered from its own farm, plus local beef from Westdown Farm in Blackawton.
The pub is now growing many of its vegetables and salads in its own vegetable garden. The Bear & Blacksmith Farm is located two miles from the pub, where lamb, chickens and pigs are reared. A butchery has also been built, which means beef can be hung for the optimal time, and meat cut to requirements, using the maximum amount of every animal.
The Molesworth Arms, Pyworthy
Owners Kit and Monique Hepple moved from Berkshire to this rural corner of North Devon six years ago, to breathe new life into a boarded-up pub. They do an incredible job of showcasing local meat and fish, as well as herbs and vegetables from their own polytunnel down the road. Former landscape gardener Monique grows organic herbs, fruits and vegetables to supply the pub's kitchen.
The Boathouse Café, Plymouth
The fish and shellfish on offer in this Barbican favourite are fresh off the café's own dayboats: The Sidney Rose and the Elin D. Enterprising owner Ben Squires, who owns a fleet of cruise boats, fishing boats and ferries, opened The Boathouse as a way of connecting his love of food and fishing.
The café's fabulous location in a former fisherman's stores, overlooking the historic Mayflower Steps, serves whatever the boats bring in that day: scallops, squid, crab, lobster, mackerel, sea bass, gurnard, whiting and more.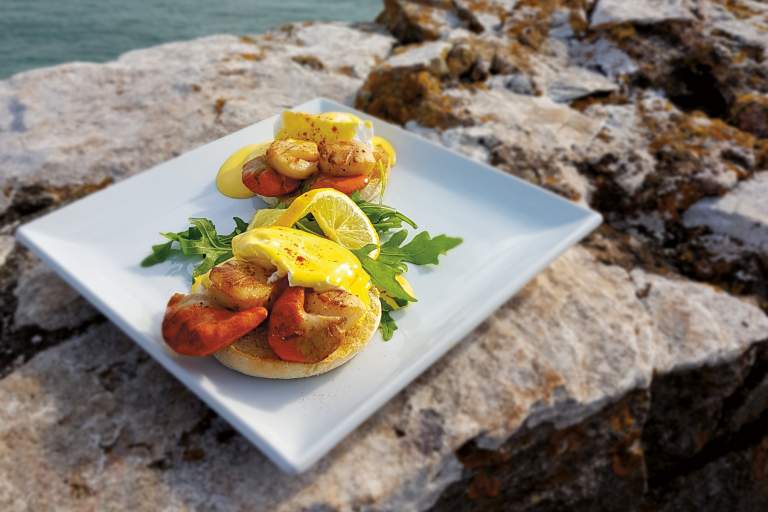 The Guardhouse Café, Brixham
Enjoy some of the best food Torbay has to offer in this café perched high above a beautiful part of Devon. The Guardhouse Café is located within a former Napoleonic Fort at Berry Head. Karen's Cakes in Paignton, Brixham fish from Wright Brothers, Dartmouth Dairy, Fairalls Fruit & Veg and Bays Brewery are just a few of the café's tried and trusted suppliers. Once you've had your feed, head to the cliffs – there's a good chance you'll spot some local porpoises in acrobatic action.
The Cellar Door Kitchen, Sharpham Estate, Totnes
With award-winning produce right on the doorstep, head chef Daniel Teage and his partner Charlie Ramsdale, create delicious dishes that celebrate the whole field-to-fork process. Many of the seasonal ingredients are handpicked from the Sharpham Estate, or from the outdoor restaurant's kitchen garden.
In fact, in a few months, the team will have finished creating its 100% organic 'no dig' vegetable garden. So far, there's been plenty of planting and nurturing seedlings in a new polytunnel with enough space to grow the bulk of what The Cellar Door requires. The plot will evolve with the culinary needs over the coming seasons.
The team is upping sticks next year to move to the Sandridge Barton estate on the other side of Dart Valley, at Stoke Gabriel, where it will join Sharpham Wine.
Forest Fungi, Dawlish
Mushrooms, of course, feature heavily on the menu in this popular café and farm shop. Founder Scott Marshall began growing his own mushrooms after discovering their health properties while he was going through chemotherapy treatment for cancer. Scott has since made a good recovery and his business has, quite literally, mushroomed. The team at Forest Fungi grow everything from shitake to oyster in their specialist 'shroom rooms'. You can sample the organic and very locally grown gourmet fungi on the café's breakfast and brunch menu.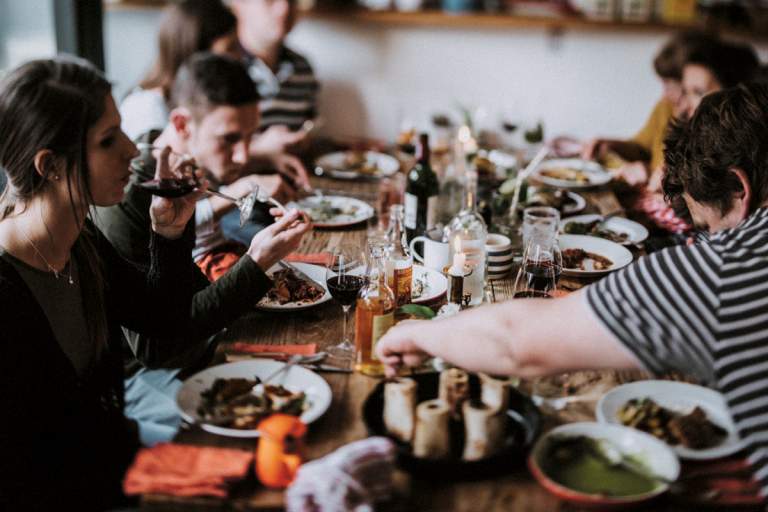 The Rusty Pig, Ottery St Mary
Menus at this 'licensed feasting house' are designed around local suppliers. Owner Robin Rea is passionate about supporting our farmers and producers. Pork – either from the restaurant's own pigs or from nearby smallholders with the same focus on welfare – is the star attraction here. Other menu favourites are locally sourced beef, game, fish and shellfish. Staff are only too happy to let diners know exactly where the food on their plate comes from.
Millers Farm Shop, Axminster
Run by Malcolm Miller and his family, this much-loved farm shop has been growing and selling locally sourced produce for more than 40 years.
Some of the vegetables are grown on the farm; the rest are provided by local suppliers who are passionate about good quality food. You will find fresh fish from Lyme Bay, beef, pork and lamb from local farms, local milk and cream, cider, plus a variety of local cheeses.
The on-site Teapot Café serves local coffee and homemade cakes, along with a seasonal menu. This place really is a one-stop shop.
The Elephant, Torquay
With picture-perfect harbourside views, reasonable prices and ingredients sourced from their own farm – it's no wonder the team at The Elephant has been able to maintain the restaurant's Michelin star for more than 15 years.
Chef proprietor Simon Hulstone aims to use local and sustainable produce wherever possible. The Elephant has a dedicated 96-acre farm in Brixham, which supplies vegetables, herbs, chickens, eggs and more.
Dishes change regularly, depending on which locally grown and reared ingredients are at their best. Simon also works closely with the staff at Brixham Fish Market to make sure his customers enjoy the best catch around.
Strawberry Fields farm shop and restaurant, Lifton
From humble beginnings as a Pick Your Own, this farm shop, coffee shop and restaurant with its own nearby luxury accommodation has grown into something of a foodie destination.
Inside the shop, the bakery takes centre stage, wafting out the delicious smell of fresh bread and pastries, all made on-site. Fruit and vegetables are grown outside the shop and in the surrounding landscape, including in lush strawberry rows, which are open for Pick Your Own from the beginning of June. Customers can check the shop's seasonal calendar for the availability of produce.
There is also a 200-seat, barn-style restaurant serving daily specials, plus the locally famous Strawberry Fields hearty breakfasts, cooked using its own free-range eggs, homemade pork sausages and Cornish bacon.
Riverford Field Kitchen, Buckfastleigh
This field-to-fork trailblazer has its own garden, just metres away from the restaurant. Head gardener Penny Hemming grows a variety of crops, including fresh herbs, radishes, spicy rocket leaves, unusual tomato varieties, strawberries and raspberries for summer desserts.
The restaurant serves a set menu of seasonal, veg-centric dishes. Alongside its lunch and supper menus, it has also started offering a four-course vegetarian brunch on Saturday mornings at 10am.