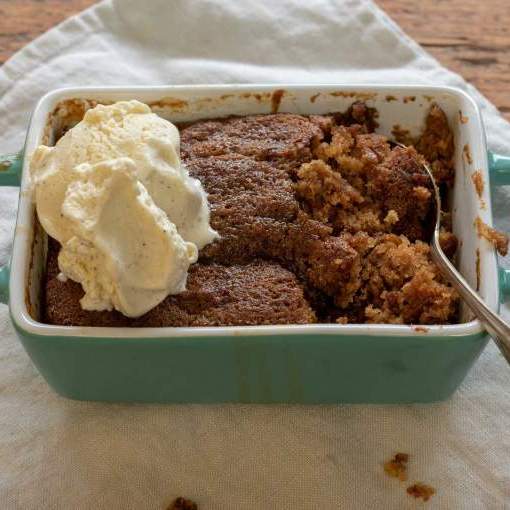 
Self-saucing ginger & date pudding
A warming winter dessert
Ingredients
200ml boiling water
100g unpitted dates, roughly chopped
1/2 tsp baking soda
40g butter, softened
100g dark brown muscovado sugar
1 egg, beaten
125g self-raising flour
1/2 tbsp ground ginger
1 tbsp glacé ginger pieces
For the topping:
225ml boiling water
1 tbsp butter
100g dark brown muscovado sugar
1/2 tbsp ginger
1/2 tbsp glacé ginger
75ml double cream
Method
For the pudding:
Put the dates into a bowl with the baking soda. Pour over 200ml boiling water, stir to dissolve. Leave for 30 minutes.
Put the dates into a food processor and blitz to a thick paste. Set aside.
Place the butter and brown sugar into the food processor (no need to clean it beforehand), mix until pale and fluffy.
Add the egg and combine. Introduce the flour and ground ginger, pulse briefly, then add the date paste and glacé ginger.
Pour into a baking dish.
For the topping:
Put the butter, brown sugar and ginger into a jug. Add 225ml boiling water and stir until the butter has melted.
Add the double cream and whisk again.
Using the back of a spoon, pour the topping over the pudding and bake for about 40–50 minutes, or until bubbling and the pudding has risen.
Let it sit for 5 minutes before dishing up with ice cream, crème fraîche or custard.