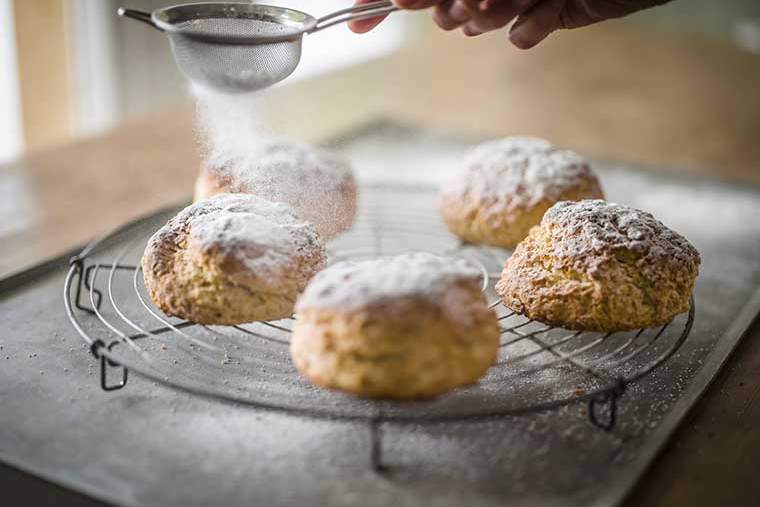 
Plain Buttermilk Scones
Plain Buttermilk Scones
Ingredients
450g self-raising flour
2½ tsp baking powder
80g caster sugar
80g unsalted butter
2 medium eggs
About 250ml milk
1 tbsp lemon juice
1 egg, beaten, to glaze
Method
Preheat oven to 220°C/200°C fan-assisted/gas mark 7. Line two baking trays with baking parchment.
Crack the eggs into a measuring jug and lightly beat with a fork. Pour in enough milk to make up to 300ml, then add the lemon juice. Leave to stand for 5 minutes.
Combine the flour and baking powder in a large bowl. Add the sugar and butter and rub together with your fingertips until the mixture resembles breadcrumbs.
Make a well in the centre and pour in a third of the milk mix. Using a butter knife or metal spoon, mix together, adding more milk as you go. You might not need to use all the milk mixture, although you want the dough to be on the wet side.
Turn out the dough onto a flour-dusted surface. Lightly turn it in on itself a couple of times with your fingers to bring together. Don't worry about rolling the dough, just pat into shape with your hands.
Dip your cutter into some flour and stamp out the scones, being careful not to twist or pull away from the dough. Carefully place on the baking trays. Leave a little space between each one and brush the tops with the beaten egg. Don't let the egg glaze drip down the sides as it will prevent the scones from rising evenly.
Leave to stand for 10 minutes, then put in the oven for about 15 minutes or until they have risen and are golden brown. Check the bottoms to see if they sound hollow. If you're unsure whether they are cooked, break one in half slightly to test.