
Vineyards in Devon
Support local and explore the range of award-winning wines from these Devon vineyards, producers and merchants
Swanaford Estate
Swanaford (main picture) is run by Ben and Caroline Goulden, who produce awesome sparkling and still wines in the beautiful Teign Valley, just six miles outside Exeter. During May and June, they are running tasting tours of all their wines on Friday evenings and Saturday mornings, with additional midweek dates added on Wednesdays throughout June, as well as at other times during the year. Plus, there are pop-up feast events throughout the summer, with one on 10 June and another on 24 June, when locally sourced and freshly prepared food will be cooked by South West food heroes, Shipwrecked.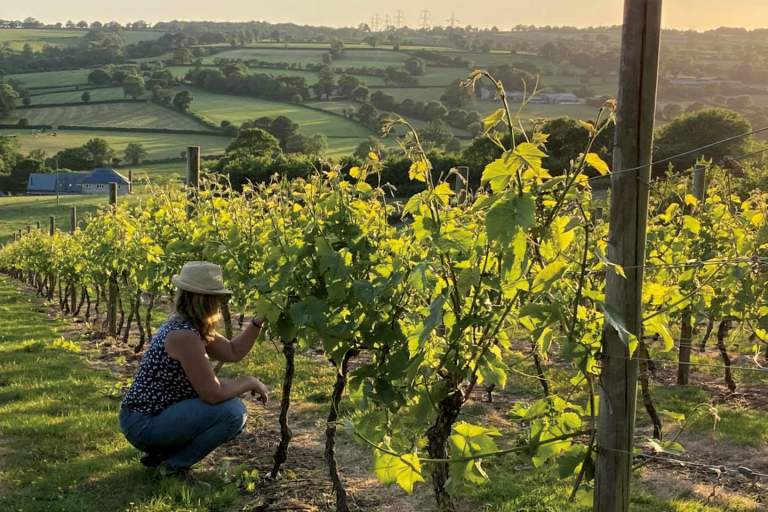 Dalwood Vineyard
This East Devon vineyard, located on a gentle hill overlooking the village, was made a reality by six Dalwood villagers. Backed by knowledge gained from a vine growing course at Plympton College and a willingness to learn, the locals planted their first vines in Dalwood Vineyard in 2009, the first acre was devoted to Seyval Blanc.
The following year, three more varieties – Solaris, Madeleine Angevin and Pinot Noir – were planted, giving a total area of three acres and about 3,000 vines. These varieties were chosen for their ability to deal with the West Country's unpredictable climate, reliably delivering a crop with various blending options. It takes at least four years to yield the first crop to produce a sparkling wine – that happened in 2013.
Dalwood produces award-winning wines – a still white, traditional method Brut and this year, a special release Pinot Noir dominant rosé. Specialising in short runs of its wines, grapes from this single vineyard are exclusively grown at Dalwood.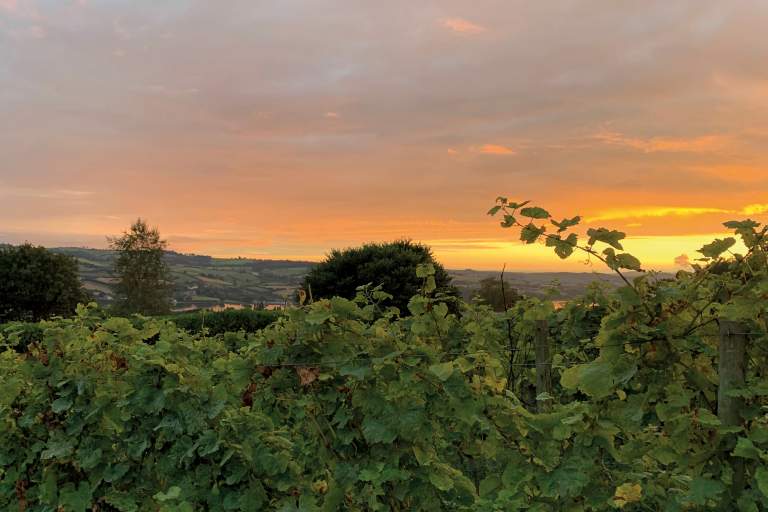 Old Walls Vineyard, Bishopsteignton
Immerse yourself in the traditional art of fine-wine making with a guided vineyard tour. Running throughout the year, they start at 11am and finish at 3pm, on Fridays, Saturdays, and every first and third Sunday of the month. You'll be welcomed on arrival with tea or coffee, you can then enjoy a walk to view the vines, followed by a talk in the winery. A guided tasting of the current still wine selection is followed by a ploughman's lunch and glass of wine. £40 per person.
New from 6 May 2022 is the twilight vineyard tour with tapas from 6.30pm on Friday evenings. Enjoy a tasting of six wines, followed by three tapas dishes and a glass of your favourite wine. £30 per person.
Vouchers are available to purchase via the online shop, by phone, or from the Bistro. Please advise of any dietary requirements when booking.
Quance Wines
Quance Wines is a small, wine-producing vineyard based in Swimbridge, North Devon.
With just two hectares, the vineyard is located on a steep hillside, with well-drained soil and is close to the coast. This slope has a sheltered area, allowing the vines to flourish in less harsh conditions.
Quance Wines grows a large selection of English grapes to create a number of great tasting wines, with two of their most popular wines being a dry white, Masona, and a light-bodied red, Voliba. Its wine names are chosen to reflect the history of the region, with some being ancient place names for settlements in Devon and Cornwall.
Lily Farm Vineyard
Lily Farm Vineyard is a small, family-run vineyard based in Knowle near Budleigh Salterton.
There's a focus on grape varieties that are flavoursome and yield well in English conditions, which include several black and white grapes, such as Pinot Noir, Précoce, Bacchus, Seyval Blanc and Reichensteiner.
Lily Farm sells its wines directly from the vineyard. Either visit the vineyard and purchase the wines direct, or buy online.
Heron Farm
Situated on the outskirts of Honiton is Heron Farm, a joint vineyard, kitchen and farm shop that is open to visitors. It grows different varieties of grapes and apples to create award-winning wines, juices and ciders.
The Farm produces an award-winning sparkling wine, a still rosé wine and a still white wine. Visitors can learn more about the grapes, processes and Heron Farm's environmental ethos on a vineyard tour.
Torview wines
Torview Wines is a small, family-run vineyard in Sheepwash, Beaworthy. This south-facing vineyard produces four different varieties of grapes, which include Pinot Noir, Dornfelder, Rondo and Acolon, all of which suit Dartmoor's climate.
Sign up for a tour or tasting to sample some of its English red wines. You can also learn about the positive outcomes created and challenges faced by wine producers in the UK, as well as the characteristics of the different grapes grown on site.
Wellhayes Vineyard
Wellhayes Vineyard is a wine producer located in the small village of Clayhanger, just outside Tiverton, whose main sparkling wine is created on site in an old stone barn using traditional methods and a blend of four grapes: Chardonnay, Pinot Noir, Pinot Meunier and Reichensteiner.
You can buy its wines from the online shop.
Alder Vineyard
Alder Vineyard is set on the edge of Dartmoor near Lewdown, Okehampton. This family-run business produces a number of full-flavoured wines from its 5,000 vines, including varieties such as Madeleine Angevin and Rondo.
The team offers tours to guests and is keen to show you why growing grapes on the edge of Dartmoor is so special. There's a kitchen, bar and shop on site – stay and enjoy the surroundings while sampling its delicious produce.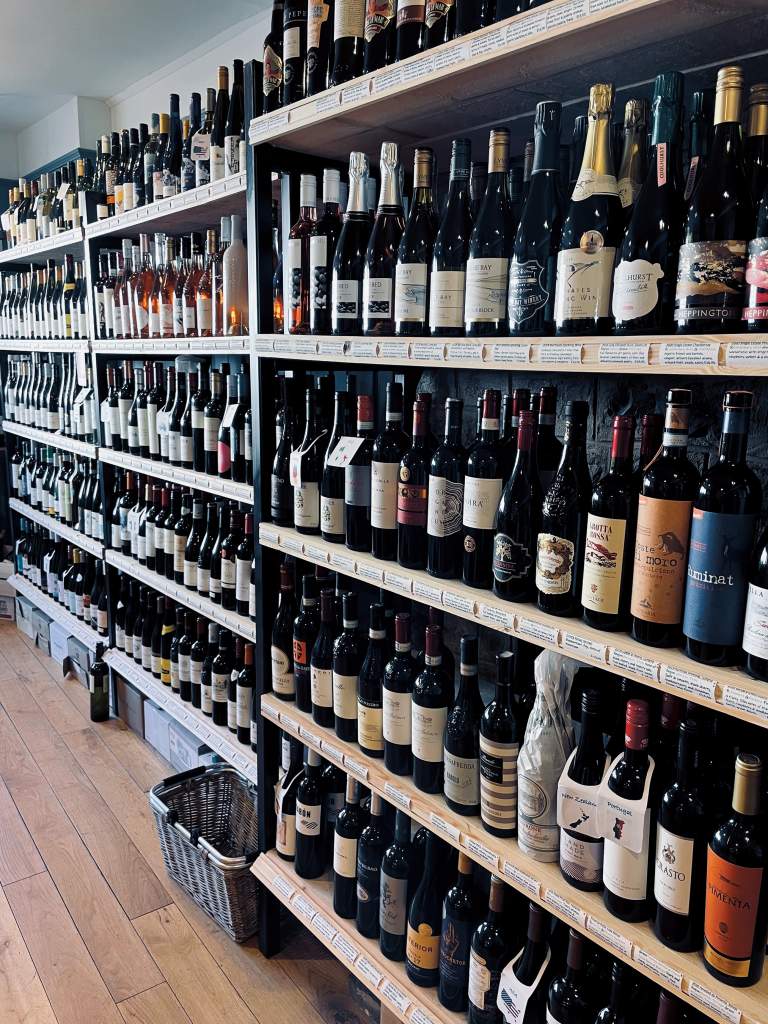 Corks and Cru, Bampton
If you can't visit a vineyard, try an independent wine merchant instead. Corks and Cru was founded in 2020 and is based near Tiverton. It stocks an eclectic range of wines, as well as beers, ciders and spirits, all chosen with care, having trained at the Wine and Spirit Education Trust.
There are over 200 wines to choose from, including sparkling, rosé, red, white, dessert and fortified wines – and organic, vegan and local wine producers are among its specialities. Why not leave the decision-making to the Corks and Cru experts, and join its Wine Cru to have a carefully chosen selection of wine delivered to your door, as often as you wish.