
Devon Gin
Some Cridford Inn locals give their verdict on four Devon gins served at the pub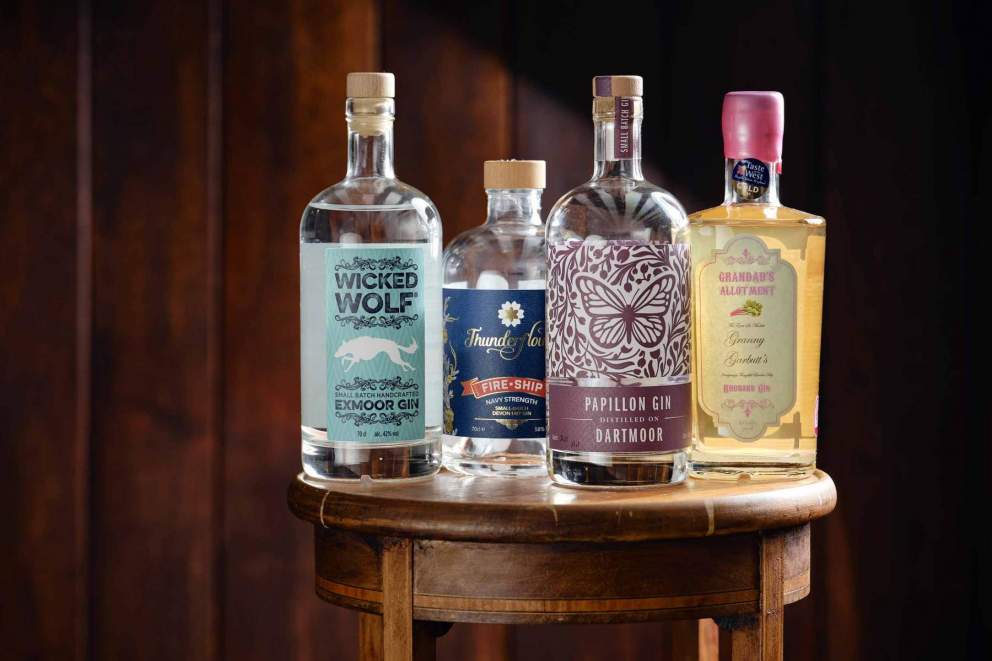 Thunderflower Gin
This has a pleasant aroma and an unusual, peppery flavour, which I liked very much. It was nice to try a spice-based gin, rather than the more common herbal-based. It tasted better with tonic, and I think it would go well in cocktails.
Jane Brooks
Thunderflower has a heady spice aroma that delivers a punch, while its taste has a slightly sweet undertone. I think it would be great served as an aperitif or in a cocktail, such as a Negroni.
Lex Turnham
Papillon Gin
Main botanicals – Gorse / Hawthorn / Roman Berry / Camomile / Devon Violet
A soft aroma with no harsh vapours, which has an equally soft, floral flavour. Due to the gentle and mellow flavours, I would never add a complex tonic – Indian tonic only should be used.
Jane Brooks
I would drink this over ice on a hot day as an after-dinner drink, although I preferred it with tonic.
Liz Bartlett
Papillon Gin's floral aroma reminded me of a lazy afternoon stroll in a meadow. Lively on the palate, it has earthy undertones and a background note of Devon violets. I could happily enjoy this with a delicately spiced, meaty fish dish, such as Monkfish Kashmiri curry or even a creamy korma.
Lex Turnham
Wicked Wolf
A soft, yet spicy aroma, with a predominant coriander taste, this would go very well with salty, spicy food – such as samosas, strong-flavoured crisps, or spicy, chilli nuts – a favourite of mine.
Jane Brooks
Wicked Wolf has always been a favourite. The smell reminds me of long summer evenings, and the addition of tonic makes it smooth and refreshing.
Liz Bartlett
Wicked Wolf delivers a familiar aroma – citrus notes and underlying spice from the coriander and cardamon. As a fan of coriander, Wicked Wolf is certainly a palate-pleaser for me, with a pleasant citrus aftertaste. Go bold and pair it with a tongue-tingling Thai curry – green, or even a jungle curry if you're brave enough!
Lex Turnham
Exeter Gin
The citrus aroma came through first, and then I found the tarragon. For a herbal gin, the botanicals blended well and were quite subtle. I enjoyed it, particularly when tonic was added.
Jane Brooks
Exeter Gin has a clean, fresh fragrance. The basil notes are enticing but not overpowering, so I think this should be drunk with a delicately flavoured tonic. This is my preferred gin out of the four – smooth, aromatic and well balanced. This gin deserves to be savoured. I would enjoy this as an aperitif or with a light meal. A handful of nuts would probably make me drink more of it!
Lex Turnham