
Seafood Restaurants in Devon
Devon's fish is among the best you can get. Su Carroll tracks down some of the best fish and seafood restaurants in Devon
With two coasts and only around a hundred miles separating them at their widest point, Devon has a rich source of fish and shellfish. Two of the biggest ports in the country are located in Plymouth and Brixham – with Plymouth Fisheries at Sutton Harbour auctioning up to 2,000 boxes a day.
This is the bounty that often finds its way to Devon's fish and seafood restaurants, but a growing number of eateries are landing their own catches, replacing food miles with food feet.
From dining rooms with white linen, to simple shacks by the sea, you'll find more than just the Catch of the Day with our selection of local fish restaurants.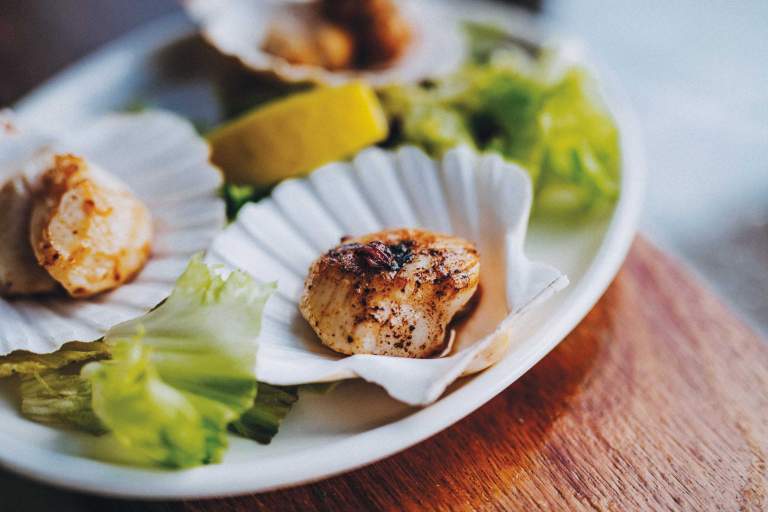 The Boathouse Cafe, Plymouth
The Boathouse is an award-winning seafood café, bar and takeaway on Plymouth's waterfront, overlooking the Mayflower Steps. A retractable roof for sunnier days means you can dine alfresco.
The speciality is local fish and shellfish, sustainably caught by its own day boats – The Sidney Rose and the Elin D. The specials menu depends on the catch that day, but expect anything from mackerel and whiting, to gurnard and monkfish.
The Scallop Shack at The Boathouse serves fresh South West scallops in a variety of mouthwatering ways. There's also a selection of meat and vegetarian dishes and a little nipper's menu – all made with fresh, seasonal produce.
Britannia @ The Beach, Beesands, Kingsbridge
This popular BYO restaurant underwent a complete rebuild earlier this year. It now has a purpose-built kitchen, a dedicated ordering and serving window for takeaways, as well as heating and air conditioning. It's open all year round and customers can still buy fresh fish from the counter inside.
Serving breakfast, lunch and evening meals, diners can enjoy the freshest Start Bay crab, lobster and scallops, and a wide variety of locally caught fish and mussels, among other catch-of-the-day specials. There is also a delicious range for vegetarians and meat eaters. As well as traditional fish and chips, the takeaway menu offers calamari, scallops and roasted vegetable wraps.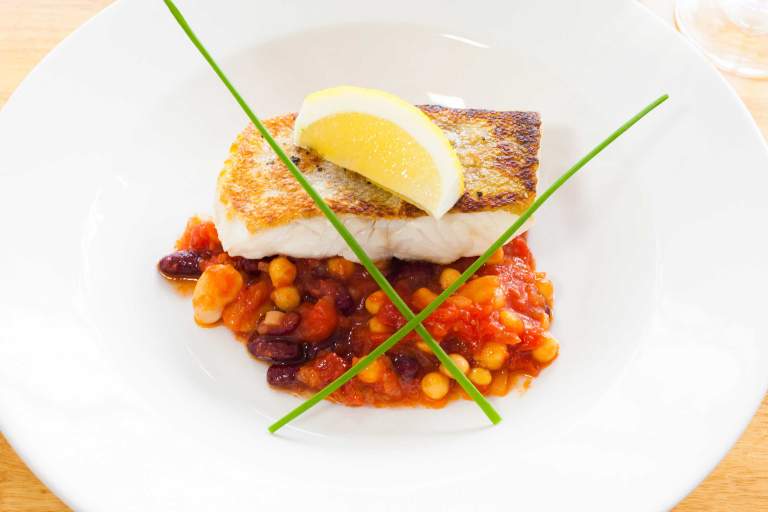 Neil's Restaurant, Sidmouth
Proprietor/chef Neil Harding's love of fish and experience in selecting the best produce, combined with the knowledge of local suppliers that comes after years of working in the area, means that visitors get excellent food at excellent value.
"Mussels and scallops are two of my favourite shellfish, with autumn being a particularly great time of the year for fish," Neil says. "Everything is always prepared and cooked personally by me. If I'm not here, we're not open! The menu is updated daily to take advantage of that day's landings, and is on the website by 8.30am."
From 10 September, early diners can enjoy a 20% discount. Visit the website to take advantage of this special offer and to view the terms and conditions.
Shoals on the Lido
Sean Perkes and his family are Brixham fishermen who have been supplying sustainable, top quality fish and shellfish for decades. They know everything there is to know about catching, cooking and eating fish... keeping it fresh and simple.
In the summer of 2015, Sean and his wife Sarah opened Shoals Café on the Lido at the Shoalstone Seawater Pool where the alfresco terrace offers views across the outdoor pool, out to sea. If you're lucky you'll see the Perkes's own trawler bringing in the catch.
There's an extensive fish menu, great choices for kids and fab crab sandwiches at lunchtimes.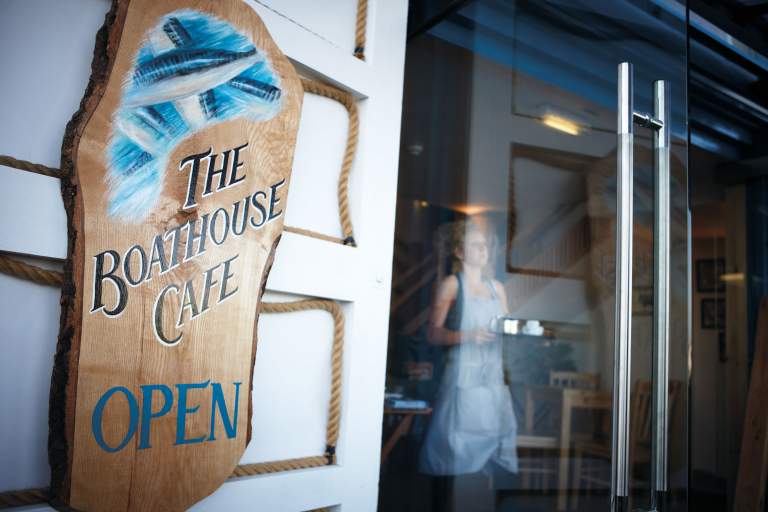 The Boathouse Café
Just a net's throw away from Platters is The Boathouse Café in what was once fishermen's stores in arches next to the Mayflower Steps. The fish and shellfish are landed by The Boathouse's own day boat, The Southern Star, just a few feet away from the restaurant.
There's plenty of room for visitors and it's dog- and family-friendly (little nippers can even opt for mussels and fries). All the classics are on the menu alongside the retro scampi and chips, sharing platters and fresh crevettes (with heads on!).
The Café is in a great location for boat trips. If you fancy a go at DIY dining, take a Cook Your Catch boat trip to find your own fish to be cooked in The Boathouse's kitchens.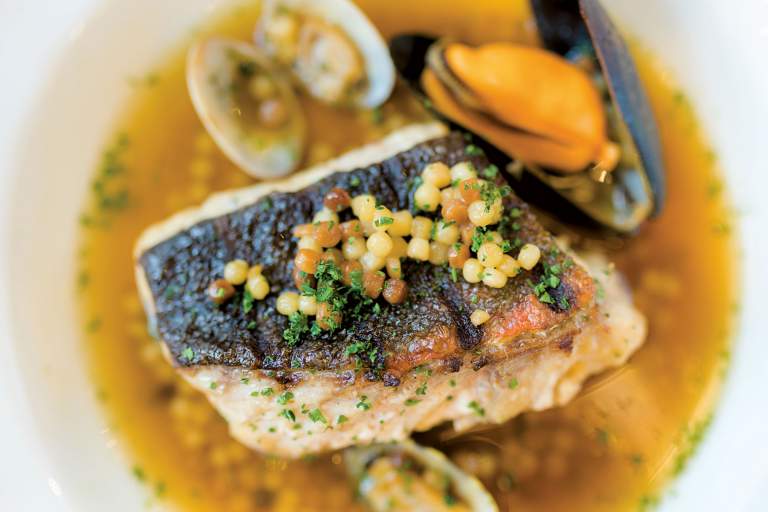 The Seahorse
Mitch Tonks' flagship restaurant in Dartmouth has been in the Top 100 in the National Restaurant Awards for a decade, ranked number one in Devon.
Fish and shellfish are landed locally, or from Brixham, and cooked over an open charcoal fire. Families are welcome and Sunday lunches are popular.
Opt for the locals' menu, which offers three courses for £20 at lunchtimes and up to 7pm (excluding Saturday nights).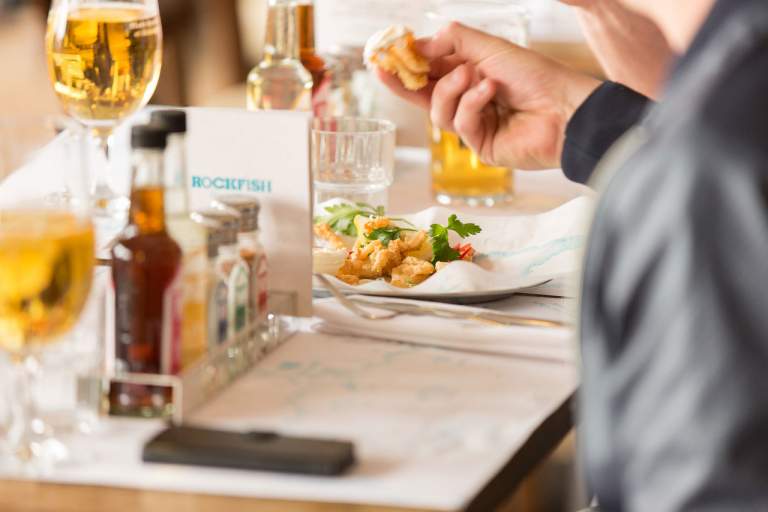 Rockfish
Fish hero, Mitch Tonks is an advocate for sustainable produce and someone who likes to give back to the community, being a driving force behind several food festivals and initiatives. Mitch is a self-taught chef whose Rockfish chain offers great taste and excellent value.
There are now Rockfish restaurants on what Mitch calls: "Britain's seafood coast" in Dartmouth, Torquay, Plymouth (next to Plymouth Fisheries where the catch is landed), Brixham (overlooking the fish market), Exeter and Exmouth.
Mitch selects the best of the landings each day from around 30 species. The Rockfish motto is: "Tomorrow's fish are still in the sea." The entire menu is available gluten-free.
Platters
This family-run fish restaurant in Plymouth is legendary for great seafood, friendly service and a quirky interior with wooden carvings that make it look more like a ship's cabin than a waterfront eatery. It's been a fixture on the Barbican for over 30 years, getting fish from the day boats that land at the Fish Market, once opposite, but now 200 yards away.
Traditional fish and chips sit side-by-side with lobster and shellfish, epic fish pies and lots of grilled seafood.
The Crab Shed
The Crab Factory has been producing delicious, local handpicked crab from a building on The Fish Quay at Salcombe for ten years. It made sense to provide a dining experience so that everyone could enjoy the seafood on the doorstep. The nearby Crab Shed overlooks the river and has a dining terrace. Crab is high up on the menu but so are mussels, prawns and mackerel.
The kitchen team knows what it's doing, making stocks and sauces from shells and trimmings, adding great depth of flavour to the dishes.
The Oyster Shack
Three decades ago, there was an oyster farm on this idyllic rural spot close to the River Avon near Bigbury. People would turn up to collect their oysters, bring a picnic and a bottle, and while away the afternoon. In this organic way, The Oyster Shack was born.
Oysters are, obviously, at the heart of the menu here but you'll also find lobster, crab, prawns, cuttlefish and mussels. There's a fabulous two-course seafood feast, and surf and turf for two. There are also takeaway options and even a menu for dogs. During the summer, the barbecue is going every day.
The Beach House
You couldn't get much closer to the sea – this café is situated on the coast at South Milton Sands, between Hope Cove and Thurlestone.
Fresh seafood is delivered daily – look out for house specials of cracked crab and moules marinière. The relaxed atmosphere is reflected in the sharing dishes such as the seafood platter with rough dressed crab, hot chilli and garlic prawns, steamed mussels and clams.