
Seafood Restaurants in Devon
Here's a selection of top fish and seafood restaurants, cafés and takeaways from Chrissy Harris.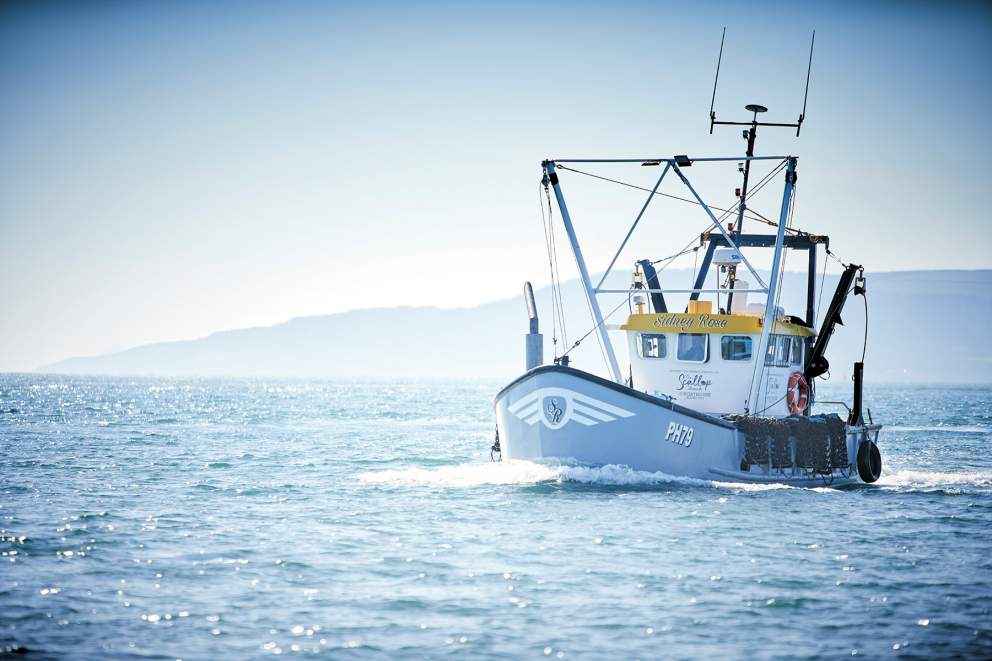 How do you like your fish supper? Whether it's battered with chips from a van, or served fine-dining style with wilted greens and nut-brown butter, you'll find your catch of the day in Devon.
With two coasts and only around a hundred miles separating them at their widest point, Devon has a rich source of fish and shellfish. Two of the biggest ports in the country are located in Plymouth and Brixham – with Plymouth Fisheries at Sutton Harbour auctioning up to 2,000 boxes a day.
This is the bounty that often finds its way to Devon's fish and seafood restaurants, but a growing number of eateries are landing their own catches, replacing food miles with food feet.
From dining rooms with white linen, to simple shacks by the sea, you'll find more than just the Catch of the Day with our selection of local fish restaurants.
No. 7 Fish Bistro and Wine Bar, Torquay
Bit of a Torbay institution, this one. No. 7 has been serving the best fish and shellfish from Brixham since 1993. Adverse weather conditions affect the menu, proving that the seafood here is about as fresh as it gets.
Scallops simmered with mushrooms, vermouth and lemon, thick cod steak grilled or roasted with olive oil, herbs and garlic, plus lobster and crab – just some of the delicious dishes, all served overlooking the lovely Torquay Harbour.
Saveurs, Exmouth
Tucked away on a pedestrianised street just off the main square, Saveurs is the locals' best-kept foodie secret.
Savour the flavours of the sea with European-influenced dishes, such as grilled Lyme Bay mackerel and pan-roasted hake. The daily menu is finalised just before service and depends on which local ingredients head chef Nigel Wright has managed to source (or forage) and what the day boats have landed.
A range of specials, chalked up each morning, include the catch of the day, served with cockle and samphire nut-brown butter, sauté potatoes and vegetables.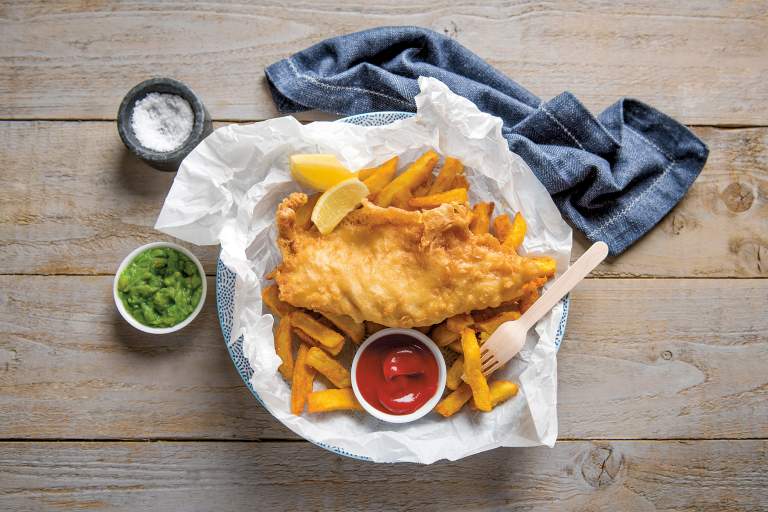 Krispies, Exmouth
You can't visit this town without a trip to its multi-award-winning chippy.
Owned and operated by husband-and-wife team Kelly and Tim Barnes, Krispies has built a reputation for delicious, sustainable fish and (secret recipe) battered chips.
They really are the talk of the town. In fact, Kelly and Tim even appeared on ITV's This Morning to talk about the secret behind their success and how they created their famous battered chips.
Take Thyme, Ilfracombe
Sit back and enjoy a simply lovely fish lunch, just a stone's throw from Ilfracombe Harbour. Take Thyme prides itself on its reasonably priced, locally caught seafood menu, served in friendly surroundings. Fresh Lundy lobster is on the menu this year but it sells out quickly, so get your order in early.
Open only in the daytime at the moment – perfect for lunch for two, or a small group booking.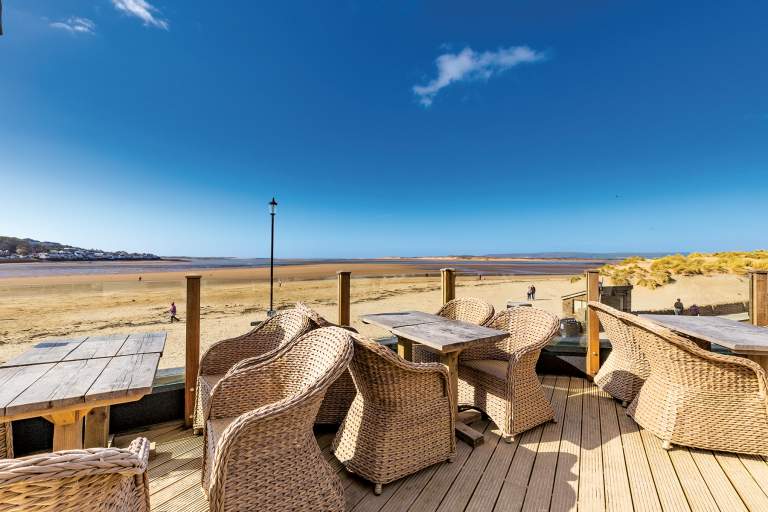 The Boathouse, Instow
Climb aboard the top deck of The Boathouse and get ready for stunning views, good food and fun times.
Head chef Jamie Coleman joined the team in September from the Saunton Sands Hotel and has a real passion for using top local produce, inspired by this rather special coastal location, overlooking the Taw and Torridge estuary.
The current menu includes Fruits de Mer and Fritto Misto sharing platters, already bestsellers. Daily fresh fish specials are on the blackboard. Four-legged friends are welcome in the beach bar or on the top deck.
Crab & Hammer, Paignton
Paignton Harbour has been given a new lease of life lately, thanks in part to the arrival of the Crab & Hammer.
The quayside 'crab-shack-style' restaurant opened last summer and is already a popular spot for locals and tourists. Run by The Blue Sea Food Company, this place is a celebration of shellfish, pot-caught by a couple of crabbers (also run by The Blue Sea Food Company) as well as twelve local day boats, fishing out of Kingswear and Salcombe.
Signature dishes include hot and cold seafood feast, served 'straight-up' or with Singapore chilli sauce or Cajun sauce. You can also enjoy crab banh mi – a take on the South East Asian classic baguette. The Crab & Hammer hopes to become the first of its kind in the UK to use humane methods to kill or dispatch shellfish before cooking.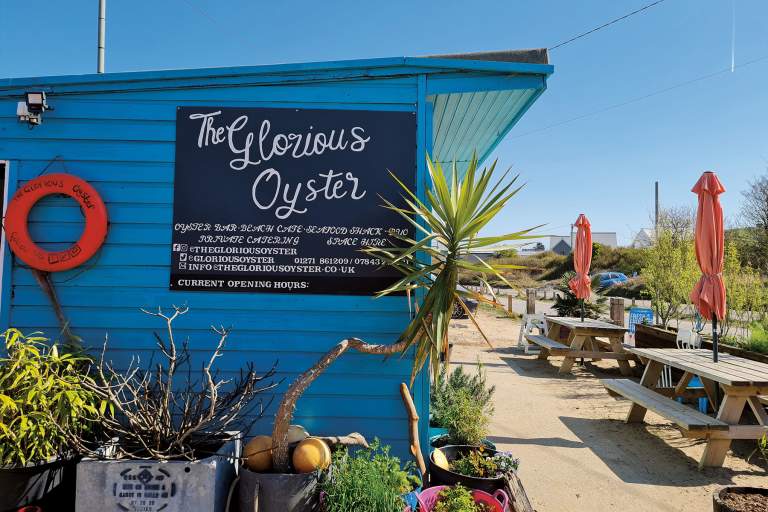 Glorious Oyster, Instow
What could possibly feel more seaside-y than eating oysters from a lovely little seafood shack near the beach?
The Glorious Oyster shucks and sells some of Devon and Cornwall's finest, delivered direct from the farmer to ensure quality and freshness. The oysters are served with a variety of home-made sauces, pickles and dressings.
The menu is about much more than just oysters, and it changes throughout the year. Expect to see fish finger sandwiches, lobster, crab, spider crab, beach burgers, squid, hand-dived scallops and even edible seaweed (when in season).
Great local coffee (Sabins) and ice cream are also on offer. You really could spend the day here.
Pea Green Boat, Sidmouth
Relaxed seaside dining, overlooking Lyme Bay is the order of the day – and that's before you see the menu. Locally caught, seasonal delights include scallops with confit shallot, samphire and chorizo, whole-baked Megrim sole, brown butter and soused vegetables, as well as whole-baked brill, with caper and garlic butter. Sounds pretty poetic to me.
Shoals, Brixham
Shoals is run by a fifth-generation family of fish merchants who know a thing or two about sourcing the best seafood around. Everything on the menu is selected daily by owner Sean Perkes, chosen from the day boats landing at the world-famous Brixham Fish Market.
Sean says his inspiration comes from childhood memories of eating freshly caught fish in the galley of his father's trawler, the Jannie Marie.
Diners at Shoals – once the storage room for Shoalstone open-air seawater pool – can choose from a range of daily specials, such as Dover sole, turbot, sea bass and brill. Crispy salt and pepper squid, crab dip, scallops or home-made mackerel pâté will get you started.
There's also an outside terrace with incredible views over Torbay.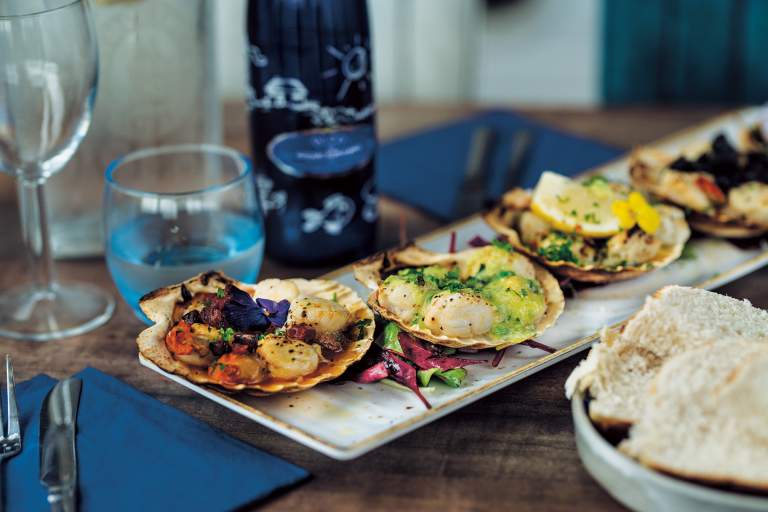 The Hook & Line, Plymouth
In what sounds like a winning recipe, fisherman Ben Squire and hospitality expert Steve Page have hooked up to open a seafood café and bar in Plymouth's iconic Royal William Yard.
The Hook & Line, which is also about to open a pop-up fish market in Royal William Yard, is supplied by its own fishing boats, Sidney Rose, Elin D and Barbican Rose. The mission is to serve simply cooked, delicious seafood dishes in a relaxed setting, which also happens to have a speciality rum bar. What could possibly go wrong?
Britannia @ The Beach, Beesands, Kingsbridge
This popular BYO restaurant underwent a complete rebuild in 2019. It now has a purpose-built kitchen, a dedicated ordering and serving window for takeaways, as well as heating and air conditioning. It's open all year round and customers can still buy fresh fish from the counter inside.
Serving breakfast, lunch and evening meals, diners can enjoy the freshest Start Bay crab, lobster and scallops, and a wide variety of locally caught fish and mussels, among other catch-of-the-day specials. There is also a delicious range for vegetarians and meat eaters. As well as traditional fish and chips, the takeaway menu offers calamari, scallops and roasted vegetable wraps.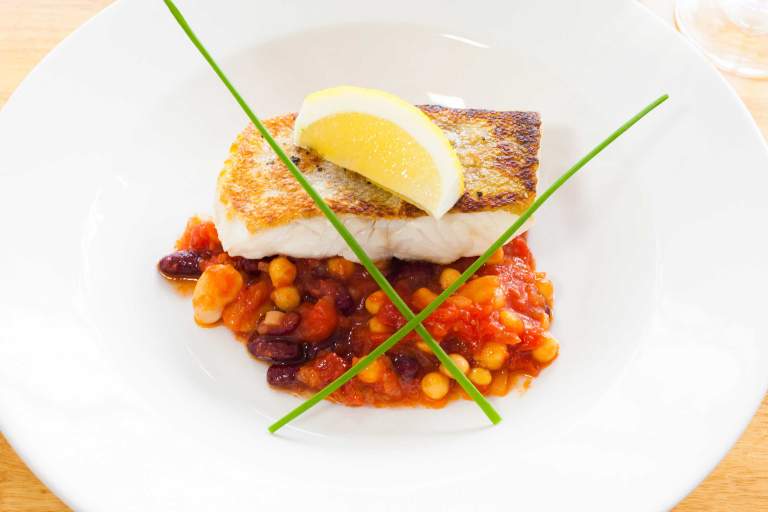 Neil's Restaurant, Sidmouth
Proprietor/chef Neil Harding's love of fish and experience in selecting the best produce, combined with the knowledge of local suppliers that comes after years of working in the area, means that visitors get excellent food at excellent value.
"Mussels and scallops are two of my favourite shellfish, with autumn being a particularly great time of the year for fish," Neil says. "Everything is always prepared and cooked personally by me. If I'm not here, we're not open! The menu is updated daily to take advantage of that day's landings, and is on the website by 8.30am."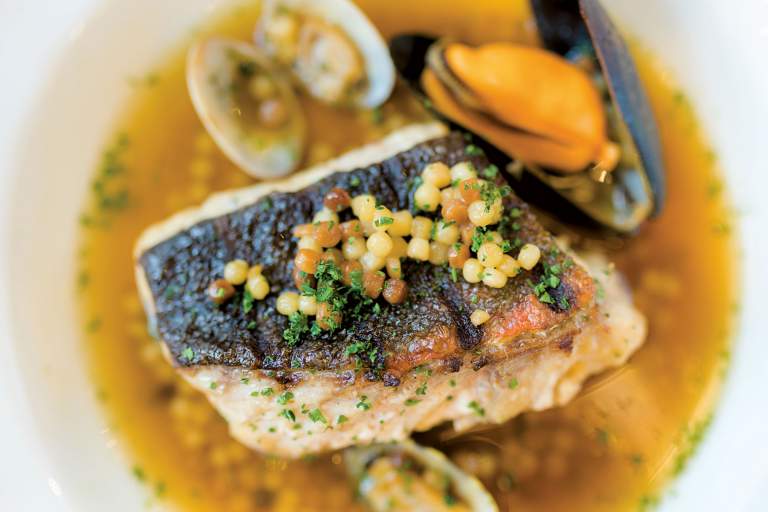 The Seahorse
Mitch Tonks' flagship restaurant in Dartmouth has been in the Top 100 in the National Restaurant Awards for a decade, ranked number one in Devon.
Fish and shellfish are landed locally, or from Brixham, and cooked over an open charcoal fire. Families are welcome and Sunday lunches are popular.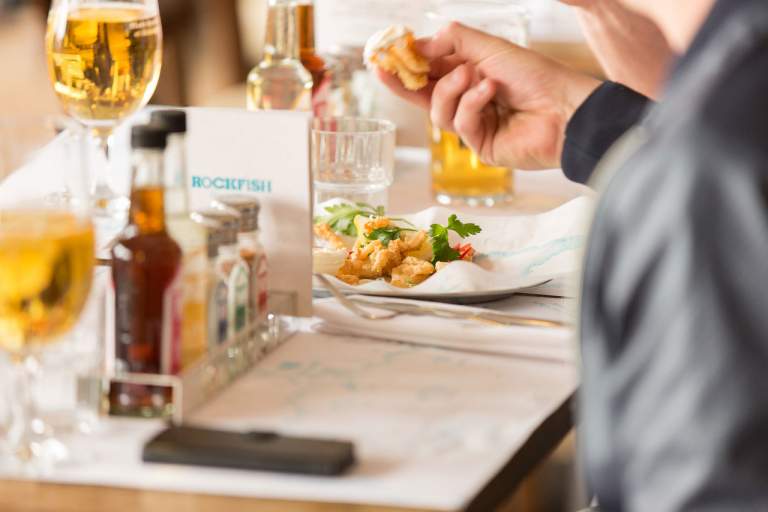 Rockfish
Fish hero, Mitch Tonks is an advocate for sustainable produce and someone who likes to give back to the community, being a driving force behind several food festivals and initiatives. Mitch is a self-taught chef whose Rockfish chain offers great taste and excellent value.
There are now Rockfish restaurants on what Mitch calls: "Britain's seafood coast" in Dartmouth, Torquay, Plymouth (next to Plymouth Fisheries where the catch is landed), Brixham (overlooking the fish market), Exeter and Exmouth.
Mitch selects the best of the landings each day from around 30 species. The Rockfish motto is: "Tomorrow's fish are still in the sea." The entire menu is available gluten-free.
Platters
This family-run fish restaurant in Plymouth is legendary for great seafood, friendly service and a quirky interior with wooden carvings that make it look more like a ship's cabin than a waterfront eatery. It's been a fixture on the Barbican for over 30 years, getting fish from the day boats that land at the Fish Market, once opposite, but now 200 yards away.
Traditional fish and chips sit side-by-side with lobster and shellfish, epic fish pies and lots of grilled seafood.
The Crab Shed
The Crab Factory has been producing delicious, local handpicked crab from a building on The Fish Quay at Salcombe for ten years. It made sense to provide a dining experience so that everyone could enjoy the seafood on the doorstep. The nearby Crab Shed overlooks the river and has a dining terrace. Crab is high up on the menu but so are mussels, prawns and mackerel.
The kitchen team knows what it's doing, making stocks and sauces from shells and trimmings, adding great depth of flavour to the dishes.
The Oyster Shack
Three decades ago, there was an oyster farm on this idyllic rural spot close to the River Avon near Bigbury. People would turn up to collect their oysters, bring a picnic and a bottle, and while away the afternoon. In this organic way, The Oyster Shack was born.
Oysters are, obviously, at the heart of the menu here but you'll also find lobster, crab, prawns, cuttlefish and mussels. There's a fabulous two-course seafood feast, and surf and turf for two. There are also takeaway options and even a menu for dogs. During the summer, the barbecue is going every day.
The Beach House
You couldn't get much closer to the sea – this café is situated on the coast at South Milton Sands, between Hope Cove and Thurlestone.
Fresh seafood is delivered daily – look out for house specials of cracked crab and moules marinière. The relaxed atmosphere is reflected in the sharing dishes such as the seafood platter with rough dressed crab, hot chilli and garlic prawns, steamed mussels and clams.