
Say No to Single-Use Plastic
Restaurants, cafés, producers and shoppers across Devon are turning the tide on single-use plastic in the food and drink industry. Anna Turns finds out how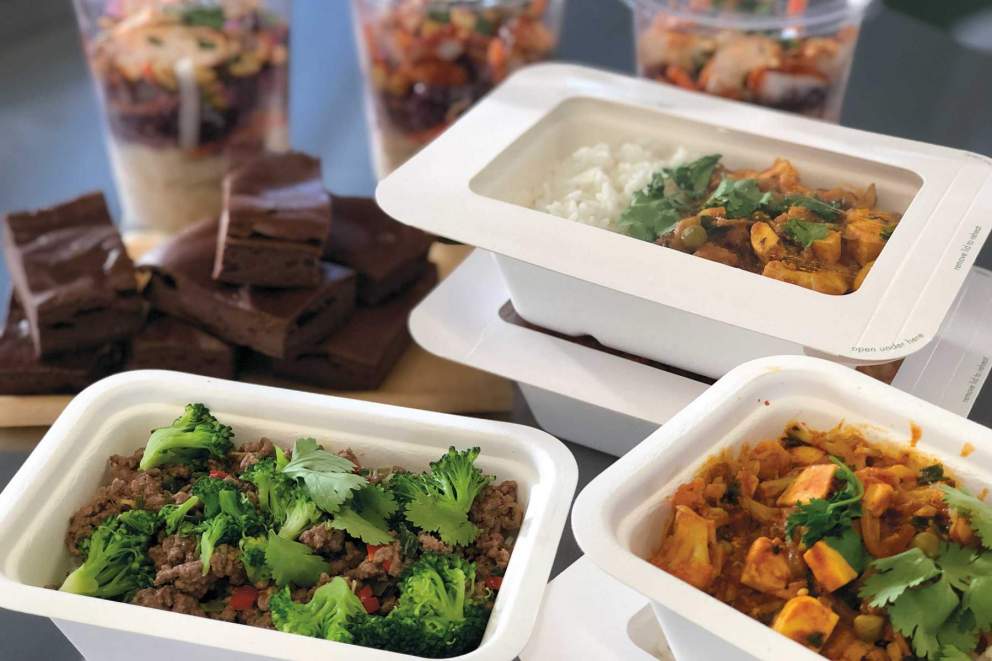 In the early days of my Plastic Clever Salcombe campaign, my daughter Ella – who was six years old at the time – explained to the general manager of the town's largest hotel that plastic can enter the estuary and harm marine wildlife. She asked him to stop providing unnecessary plastic bottles, bags, cups and straws to his customers. The penny dropped immediately. He instructed the bar manager to order paper straws and promised he wouldn't reorder any more single-use plastic cups and bottles for the hotel. Change really can be quite simple.
As part of the national Kids Against Plastic initiative, Ella and I have worked hard to encourage owners of restaurants, cafés, delis and hotels to reduce these big four polluters. Now, more than 60% of businesses in Salcombe are switching to alternative plastic-clever solutions. Last summer, Plymouth became the UK's first city to achieve the Surfers Against Sewage plastic-free accreditation. Exeter and North Devon are following suit, along with dozens of towns and villages across the county. Many outlets now sell re-sealable cans of water (much more easily recycled than any plastic), stock paper straws if any, and happily refill customers' own food containers and drinks bottles on request.
Probably the simplest way to immediately cut your own plastic impact, is to invest in a metal drinks bottle that can last a lifetime. Refill Devon is a way to ensure you always know where to find free tap water. Customers can download the app and search by location for hundreds of cafés, restaurants and shops that offer free refills across the county and beyond. Some communities, in Appledore and Westward Ho! for example, have installed water fountains in public spaces to encourage more people to make the switch.
Fantastic plastic?
First pitched as a wonder material when Bakelite was invented in 1907, plastic is cheap, durable and incredibly versatile. Becoming 'plastic clever' or even plastic free is never about eliminating all plastic because it's not inherently bad – it's how we use it that must change.
Convenience is key and 40% of plastic is used to make throwaway packaging, according to The Waste and Resources Action Programme (WRAP). On average, plastic carrier bags are used for just 12 minutes before they are discarded and globally, one million plastic bags are used every minute. It makes no sense to use a synthetic material – that might take 450 years to break up – for such fleeting purposes, and our planet is paying the price. Tiny microplastic particles have been found in our tap water, sea salt and the shellfish we eat. It's ubiquitous, and many of the items that end up in our countryside, rivers and oceans stem from the food and drink industry.
From the extraction of fossil fuels for its production to the energy used when it's collected and recycled, plastic contributes to greenhouse gas emissions that drive climate change. The good news is that solutions already exist and as eco-conscious consumers, citizens and traders, we can all take positive action now.
Sustainable solutions
Ultimately, we need to curb our hunger for consumption, stop using throwaway items and create more of a thirst for reusable alternatives. Many producers, retailers and consumers are taking positive action to turn off the tap at source and stem the flow of plastic into our environment.
Harrie Kivell, private chef and patissier based near Tavistock (www.bootoagoose.net), has cut down her use of cling film by about 90% – just by using beeswax wraps to keep food fresh and she only buys unwrapped fresh produce. "To keep my plastic use to a minimum, I buy as many ingredients as possible from shops where I can fill my own containers," Harrie explains. "When buying new utensils, I try to buy eco tools like spatulas made from bamboo and bowls made from coconut. I have also removed all the plastic from my macaron and cake boxes, and only use biodegradable cardboard as packaging."
Howard Davies, co-founder of Salcombe Gin, spent months experimenting with alternative packaging solutions and posting bottles of gin around the country to put them to the test. "We have developed an innovative cardboard protective packaging for our trade orders – instead of the traditionally used inflatable plastic sleeves. We have also switched to miniature paper cups for sampling our gin at events instead of the single-use plastic ones," says Howard. "With our distillery being by the sea, we are passionate about sustainability and the environment, so we're really proud of these simple, yet high-impact changes."
New Exeter-based company Packed Lunches, home-delivers healthy, ready meals that are cooked to order, all in plastic-free and certified compostable packaging. "We also get the majority of our produce through Veg in a Box who do their best to make sure there's no plastic in their deliveries," explains Matt Webb.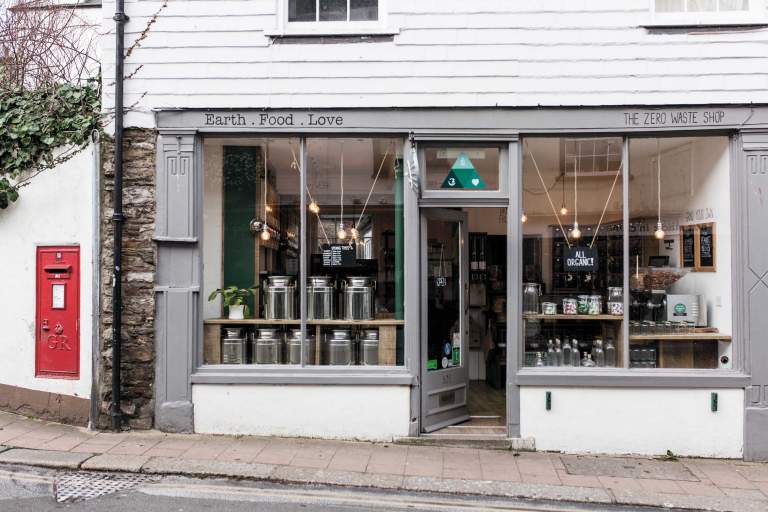 Waste not, want not
Almost three years ago, Richard and Nicola Eckersley opened Devon's first zero-waste shop – Earth. Food. Love. – in Totnes. Since then, Sarah Martin has opened branches of Nourish in Topsham's high street and Magdalen Road in Exeter. By bringing your own containers, you buy however much you need – from weigh-your-own grains and pulses, dried fruit and loose-leaf tea, as well as a machine to make your own jar of almond butter.
Nicola explains how public awareness about plastic pollution has really exploded since they first opened their doors: "TV documentaries, national newspapers and social media have all contributed massively to spreading the message of plastic pollution, reaching a huge audience in a short space of time." Now, she believes that zero-waste shopping is starting to become more mainstream: "Morrisons and Waitrose have both tested 'fill your own' sections. It's only a matter of time before every shop, big and small, offers this service, and rightly so."
There is one caveat though, when it comes to fresh produce. Riverford's Guy Singh-Watson insists that some recyclable plastic packaging is necessary to facilitate our complex food system. "Food waste is a huge issue and that also contributes to climate change," says Singh-Watson who still uses plastic to package baby spinach leaves and bagged salad, and punnets for some soft fruit, in order to preserve them for longer. However, he has pledged for more than 95% of the single-use plastic used by the veg box scheme to be home-compostable by 2020. "We don't wrap cucumbers in plastic and we do have higher waste of cucumbers as a result," he says. Riverford is investing in research and development to minimise their plastic and carbon footprint though. "We are developing our own home-compostable cellulose-based packaging in-house, which breaks down to just carbon dioxide and water in 12 weeks. But the answers aren't simple, and we really need to quickly get to a unified kerbside collection system nationwide."
A plastic-free diet
Often, the most environmentally-friendly option is to stop using single-use items altogether. With branches in Plymouth, Exeter, Honiton and Barnstaple, Boston Tea Party banned all single-use coffee cups for takeaway orders – customers either bring their own, buy a reusable e-coffee cup or borrow a cup to take away and return.
This chain's efforts have impressed Amanda Keetley, founder of Less Plastic and author of a new book, Plastic Game Changer: How to Reduce Plastic in your Organization to Make a Difference to Plastic Pollution. Amanda aims to empower professionals to take positive action and reduce plastic in their workplaces. She says that in order to accelerate business efforts, it's vital to create a ripple effect of positive change among suppliers, customers, competitors and the wider community. "In terms of reducing plastic packaging within the food and drink industry, it's essential that business owners and employees look back up their supply chain," Amanda advises. "One of the biggest problems is how suppliers deliver products. Every shop, café or restaurant has the power to request plastic-free packaging. It's ultimately all about collaboration."
Ten plastic-reducing tips
Ditch cling film and buy or make your own beeswax food wrap, which can be reused for up to a year, then easily composted.
Instead of kitchen roll, which contains plastic, invest in a roll of washable cotton towels that can be reused time and again.
Recycle food wrap bags from salad, veg or bread in the plastic carrier bag deposit unit at your supermarket – better still organise a mass unwrap event and leave packaging at the checkout.
Avoid individually-wrapped sachets of sauces and condiments – look out for cafés serving from big dispensers which result in significantly less waste.
Wooden takeaway cutlery is preferable to bioplastics. Even better, invest in a bamboo travel set to carry in your bag.
Request 'no straw please' when you order your drink.
Coloured plastic drinks bottles are much trickier to recycle than clear ones.
Take an empty ice cream tub and buy meat and fish direct from the counter.
Download the Refill app and carry your reusable drinks bottle wherever you go.
Carry a cloth shopping bag, so there's no need to pay for a plastic one.
Refill Devon
Jennie (editor of Taste Buds) and her six-year-old daughter Poppy, asked four cafés and pubs in Shaldon if they would be happy to be part of Refill Devon. All businesses embraced the opportunity: look out for the Refill stickers on the windows of The London Inn, The Clipper Cafe, Lollie Bean and The Strand Café. Refill is always happy to have volunteers adding to the list of businesses on the app. Visit: www.recycledevon.org/RefillDevon for more information.