
Oh, We Do Like to Eat Beside the Seaside!
There are some foods that are a must for the perfect seaside holiday. Luckily, as Clare Hunt discovers, Devon has all the right ingredients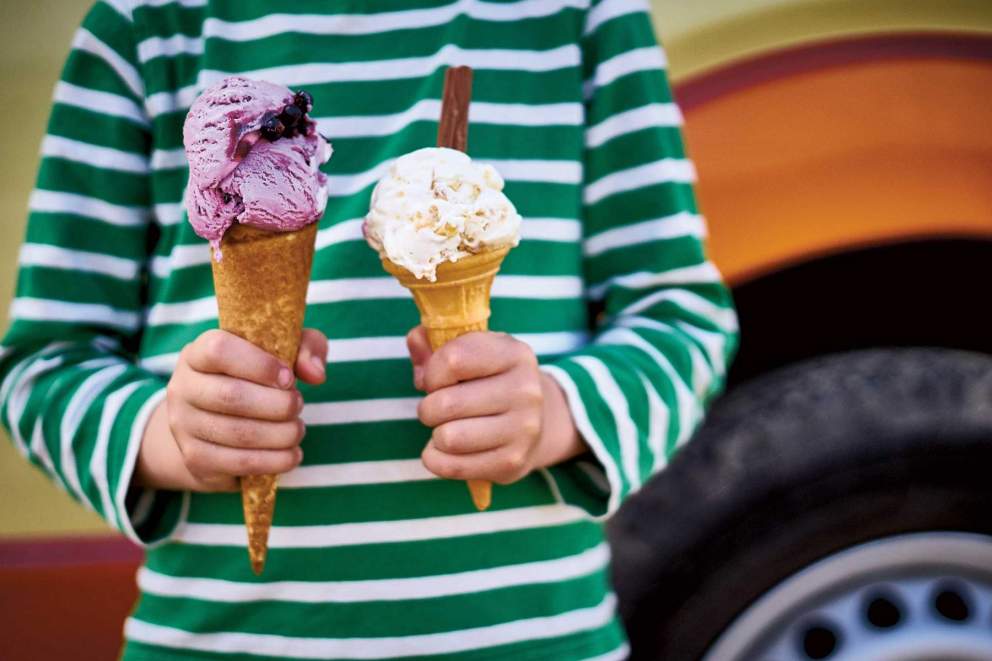 With contrasting twin coastlines offering windswept beaches, towering cliffs, bustling resorts and laid-back estuaries, Devon has it covered when it comes to seaside experiences. But whether we prefer sandy or pebbly, deserted or buzzy, relaxed or active, what we all like to do beside the seaside is eat. Some of our choices are instinctive, driven by nostalgia: without crisp battered fish, eat-it-quick-or-it's-melted ice cream and tongue-tingling sweets, we feel a bit cheated. So, what's on the Devon seaside menu, and where can the best be found? 
Hot from the Fryer
Visit the seaside and not have fish and chips? It might not actually be illegal but it should be. There's something hardwired in our brains that makes us crave them as soon as we hear the shriek of the first gull. Blame the sea air (it gives you an appetite, after all) but feel no guilt: the seaside just wouldn't be right without fish and chips.
The idea of eating something indulgent while on the move was popularised by Victorian day-trippers and has stuck ever since. Debate rages as to whether it's the fish (firm white cod, hake or haddock are most popular), the batter (with or without beer), or the chips (thick or thin, skin on or off, Maris Piper or King Edwards) that make this the perfect seaside dish. The only way to decide is try some for yourself… 
Tuck in…
Harbourside Fish and Chips, Plymouth
Rockfish, in Dartmouth, Plymouth, Torquay, Brixham and Exmouth
Frydays, Seaton
Squires Fish Restaurant, Braunton
Scallops and Winkles and Lobsters, Oh My
While Devon's chilly sea may be a bit off-putting for thin-skinned swimmers, it's ideal for fishermen. The cold, clean, fast-moving waters off both the north and south coasts yield an abundant and diverse catch, much of it landed by dayboats for super-freshness. Shellfish straight from the water is surely one of the best treats of a day at the seaside – and with so much of our catch going for export, being in the right place at the right time is a good way of getting it. From Lynmouth, Clovelly or Ilfracombe to Salcombe, Teignmouth and Brixham, Devon's harbours large and small are hauling in the freshest seafood every day. 
Best eaten in sight of the sea, with the tang of salty spray in the air, high summer sees the seasonal best of whelks and winkles, scallops, lobster and crab. You might rarely consider eating these pearls of the sea when at home, but by the sea there's nothing better. 
Treat yourself…
Crab Shack on the Beach, Teignmouth
The Crab Shed, Salcombe
Britannia at the Beach, Beesands 
One Scoop or Two?
Clearly nature had a plan when she bestowed upon Devon great swathes of coastline alongside abundant, lush pasture. Fertile grasslands, high rainfall and a temperate climate mean Devon's dairy farmers can produce rich milk with the high-fat content vital for making creamy-as-can-be ice cream. Whether you're a parsimonious single-scoop-of-vanilla-no-toppings, or full-on Knickerbocker Glory fan, you need not stray over the county border to get some of the best ice cream in the country, or, indeed, the world. Even the smallest beach café will stock one of the county's favourite artisan ice-creameries. 
Lick out for…
Yarde Farm – award-winning luxury ice cream, produced in the South Hams.
Langage Farm – made with cream from Jersey and Guernsey cows, dessert doesn't get creamier than this.
Mabel the Vintage Ice Cream Van – Braunton-based Mabel and her owner Ruth serve up
Dunstaple Farm ice cream alongside a generous dollop of retro seaside glamour.
Cowlick Creamery – rich ice creams and zingy sorbets, all imaginatively flavoured. Includes an alcohol-infused range for those very lazy days of summer. 
Sugar Rush
In the days when sugar was expensive and therefore a real holiday treat, children would lick sugar canes and consider themselves thoroughly spoiled. Now, multi-coloured sticks of rock that rainbow-stain your tongue, sickly sweet candy floss and, of course, Westcountry fudge are all seaside mainstays. Many of the boiled sweets still popular today are the same as those we gripped in a sticky paper bag as children. And who didn't buy a souvenir box of fudge for their granny, only to scoff it in the car on the way home? It's as synonymous with Devon as cider, and modern fudge-makers are proud to uphold the tradition while giving it the occasional flavour update. 
Indulge your sweet tooth…
The Devon Fudge Company, stockists across Devon or at the Royal William Yard Good Food market, first Sunday of each month.
Edward's Fudge Kitchen, Dartmouth and Brixham
Roly's Fudge Pantry, locations across Devon including Dartmouth, Exmouth and Ilfracombe.
Daffy-Down-Dilly, Sidmouth
Cranch's Sweetshop, Salcombe 
Cream First
With the growing railway network in the mid-19th century came booming Victorian tourism and hordes of new visitors to the South West. Canny local tea rooms and hotels took advantage of visitors with money to spend and rumbling tummies, fitting an extra meal into the day and spawning the cream tea. A trip to the coast just wouldn't be right without the refreshment offered by a piping pot of tea and a fresh-from-the-oven scone, slathered with jam (it must be strawberry) and cream (clotted, of course). And as for the jam/cream, cream/jam debate? A Devonshire cream tea requires the cream first, topped by the jam. Does it matter? Probably not, but you wouldn't want to upset the locals…
Top teas, a stroll from the sea…
The Montpellier, Brixham
Nelly May's Parlour, Ilfracombe
Tea on the Green, Westward Ho!
Clock Tower Café, Sidmouth