
Devonia
This family business, run by Neil Graham, supplies still and sparkling natural Devon spring water. Devonia sponsors Devon Restaurant Month 2022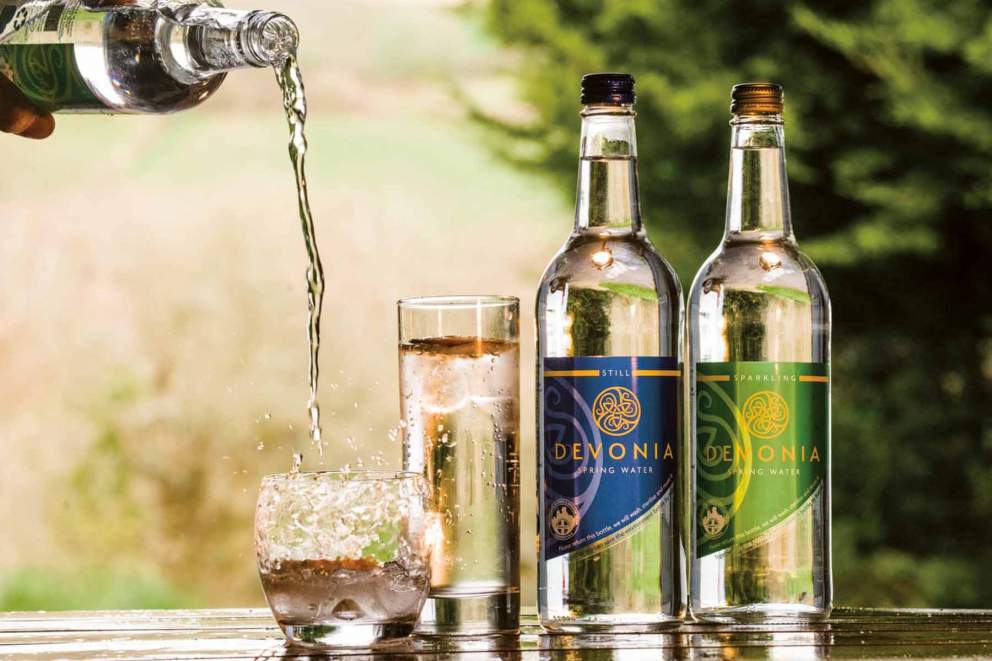 Bottled at source from an ancient spring near Beeson in the South Hams, Devonia is the perfect local water choice for hotels, cafés, restaurants, weddings and private events across the region.
Devonia reuses its glass bottles (330ml and 750ml) time and time again, collecting them from its environmentally conscious customers at the same time as delivering newly filled ones. They are carefully washed and reused to ensure any impact on the environment is as low as possible. Last year, Devonia reused 211,644 bottles with an amazing bottle return of 82% from customers. This makes Devonia the only spring water company of its kind in the south of England, with the business at the forefront of pushing back the wasteful use of glass bottles for over 20 years.
So far, it has reused 2.2 million bottles since it began trading, saving nearly 300,000 kilograms of glass from going into landfill, the equivalent of two dozen double-decker London buses! Devonia is proud to use 94% less energy through washing reused bottles, rather than buying new each time.
The fresh spring water flows from a natural underground spring at Beeson. In past times, it continued to flow through to the picturesque fishing village of Beesands, where villagers used to collect it from a central stand. It's been recorded that when the weather got rough, sailors would shelter in Start Bay, tying up their boats and taking the opportunity to stock up on fresh drinking water supplies. Captain Cook stayed nearby at Widdicombe House, so it's not inconceivable that he may have even drunk Devonia water!
Not only does Devonia taste delicious, but also serving it is a huge benefit to the environment and customers can proudly use it to their advantage when communicating their commitment to sustainability. Offering locally and sustainably sourced water is just as important as all the other food and drink products an establishment uses.