
Next Generation Foodies
There's plenty of eateries and activities in Devon to inspire a new generation of foodies, as Clare Hunt finds out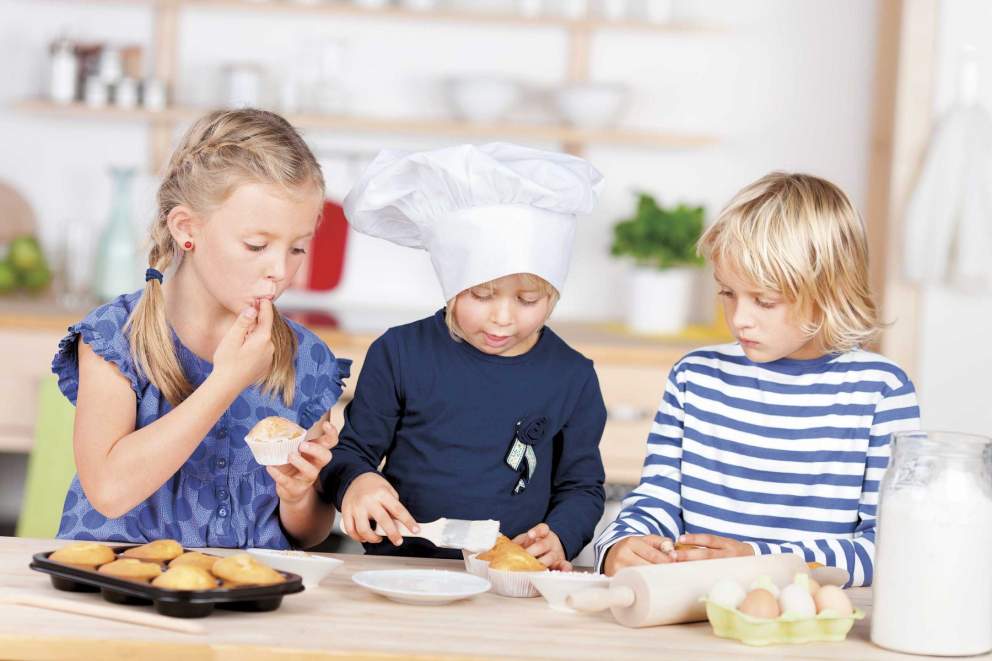 Most, if not all, parents will at some time or another obsess about their children's eating habits. From eating too much or too little, exasperating fussiness or hard-to-manage intolerances, a lot of effort goes into making sure kids are having enough of the right things and as little as possible of the wrong. So how do we set our kids a good example and put them on the right track for a lifetime of healthy, pleasurable eating? Jo Dunbavin, chief cook at Two Tarts Cookery School in Barnstaple, sums it up: "Children become very picky, very quickly, and meals can become a battleground. Cooking definitely helps because they are generally happier to try a dish if they have helped to prepare it."
Learning to cook while little is not just a vital skill for later life, it's a great way to galvanise enthusiasm about what goes into food (in terms of both raw ingredients and skills) and offers parents the opportunity for stealth education as kids read recipes and measure ingredients. Cooking also helps children identify good food from bad and understand how their food choices impact their health. And skills such as handling knives and managing hot things help to develop a sense of responsibility and appreciation of risk (however terrifying that may be for parents). Few activities combine science, the senses, hands-on skills, imagination and enjoyment quite like cooking.
Baking and bread-making are easy entry points for getting most children enthused. As Jo says, "All kids love baking! They love bread-making because it's very hands-on. They enjoy the challenge of pastry: mixing, rubbing-in, chopping ingredients, piping, stirring, separating eggs… the more hands-on the better!" As well as producing tasty results, bread-making is a fascinating exercise in how so few, quite unexciting, ingredients can be miraculously transformed. And making a bit of a mess is an added bonus.
David Jones, co-owner of Manna From Devon cookery school in Kingswear, observes that when given a free rein to innovate with familiar ingredients, kids will almost always be adventurous and creative. Caution kicks in with new and unfamiliar foods. As David says, "This is a perfectly natural survival instinct. Why trust a new food that may taste horrible or do you harm? It has to earn your trust. If you see other people enjoying it, you might be willing to give it a go."
Which is why eating out can offer kids really positive food associations. Watching chefs at work in open kitchens adds a sense of theatre and drama, while watching adults relishing delicious dishes can build curiosity and inspire more adventurousness.  With the whole family choosing different meals, there's the opportunity to try little bits of unfamiliar foods without being faced with a whole plateful. And trying new flavours outside of the home can diffuse battles with food-refusers.
So given Devon's status as a foodie paradise, where are the best places to eat with your kids and where can they go to polish up their culinary skills? 
Fun Foodie Courses
Manna From Devon, Kingswear
Family classes invite adults and kids (aged 8-15) to learn new skills and explore new foodie experiences together. Pasta, pastry, bread and wood-fired cooking are all on the agenda, with tutors who really understand what inspires and intimidates kids about food. Children aged 13 and over are also welcome to attend any of Manna From Devon's other, varied classes.
www.mannafromdevon.com
Two Tarts Cookery School, near Barnstaple
Action-packed 'cookery camps' for 8-15-year-olds give budding chefs the chance to cook their own elevenses, lunch and afternoon tea. Snack, soups, main courses, puds and breads are all crammed into the one-day courses, with the aim of inspiring kids to produce delicious, imaginative, good-for-you meals at home.
www.twotartscookeryschool.co.uk
Occombe Farm, Paignton
Based on a working farm in South Devon, Occombe's school-holiday kids' classes are open to 7-12-year-olds and really combine an understanding of where food comes from with how to make it delicious. As well as seasonal classes for Easter and Christmas, there are sessions on Chinese and Indian cookery, as well as a 'Teen Cuisine' class for 13-17-year-olds.
www.countryside-trust.org.uk
Fun Kitchen, Exeter
One-day workshops for 8-14-year-olds that, as the name suggests, aim to inspire children by making cooking fun. Super-enthusiastic tutors and quirky recipes disguise education with entertainment. And while there are some treats to be made, there are also practical recipes for all the family.
www.funkitchen.co.uk
Family Feasting
Riverford Field Kitchen, Buckfastleigh
Taking full advantage of the fresh produce coming straight from their land, Riverford Field Kitchen offers families delicious and creative dishes, packed full of veggies. The communal dining style means kids eat the same as adults (with a discount), giving them the chance to experiment with all of that day's specials. Farm tours are available, too, for the full-on field-to-fork experience.
www.riverford co.uk
Anchorstone Café, Dittisham
Enviably located on the banks of the River Dart, the Anchorstone Café is justifiably renowned as one of Devon's best seafood restaurants. With half-size portions of most dishes available for kids, there's the ideal opportunity to introduce them to the finest local produce, fresh from the sea.
www.anchorstonecafe.co.uk
River Café, Axminster and Plymouth
As you'd expect from River Cottage, the kids' menu reflects the ethos of seasonal food treated respectfully and imaginatively. Mains and puds (such as sausage meatball beany bake and sticky parsnip pudding with butterscotch sauce) are hearty, homely and delicious, and don't swerve away from 'challenging' ingredients.
www.rivercottage.net
Jack in the Green, Exeter
Hitting a comfortable balance between relaxed and refined, the Jack in the Green enjoys a deserved reputation for top-quality food celebrating the best of Devon's produce. The kids' menu includes reliable stalwarts sure to go down without complaint. More intrepid young diners are encouraged to make their choice from the main menu, in an appropriately sized portion.
www.jackinthegreen.uk.com
The Riverside, Braunton
Serving breakfast, lunch and dinner, with tea and cakes in between, the Riverside's varied menu has something for everyone, however fussy. The kids' menu includes classics like sausage and mash alongside gnocchi, veggie laksa and mussels with chips, all served in a welcoming family atmosphere.
www.theriversidebraunton.co.uk