
Moorland Meat Matters
A co-operative of Dartmoor farmers producing grass-fed beef and lamb is having a positive effect on Devon's moorland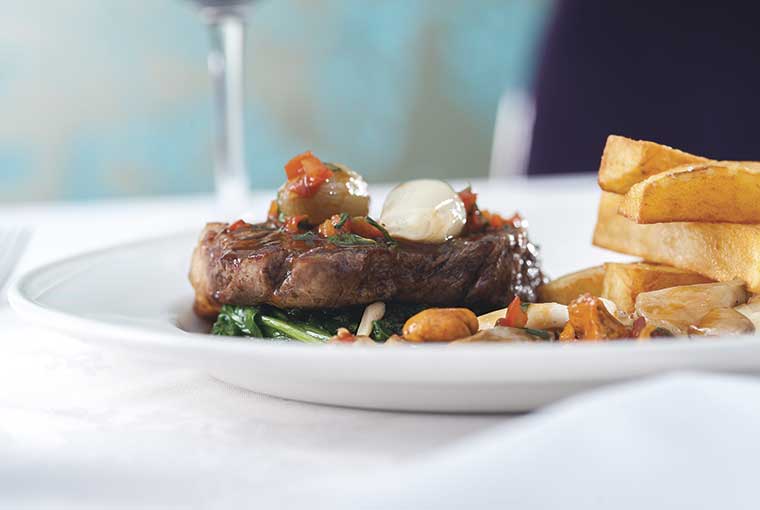 Dartmoor Farmers' Association (DFA) is a meat marketing initiative, selling beef and lamb traditionally reared on the moor to local pubs, restaurants, shops and individuals. As a co-operative, it helps to secure the long-term sustainability of farming on Dartmoor. The Association, which trades as Dartmoor Farmers Limited, was established in 2008 as a means of adding value to, and highlighting provenance of, beef and lamb produced across the moor.

Steve Earp, landlord at the Royal Oak Inn in Meavy, is passionate about serving local moorland beef on his menu. He sources Galloway beef from Mat Cole's farm in Yelverton which is well-marbled for flavour and tenderness. "Our steaks are incredibly popular with our customers and Dartmoor beef has got a great reputation for excellent taste," Steve says. "We are proud to tell our customers how locally sourced our meat is, especially since the horsemeat scandal, which highlighted a huge trust issue. Hopefully more people now realise the importance of reliable food provenance."

Dartmoor is a challenging place to rear livestock and the rugged, exposed landscape is more suited to traditional extensive farming of livestock than intensive methods. With high altitude, poor soil and a short growing season, hardy native breeds thrive here, compared to commercial varieties.

Norman Cowling, Secretary of the Dartmoor Farmers Association, explains that the organisation's values are a million miles away from modern industrial farming: "Members are required to keep traditional British breeds that are born and raised on Dartmoor on mainly grass diets." The DFA currently has more than 50 farmer members, but with up to 800 farmers on Dartmoor, there is huge potential to expand. Norman explains that to become part of DFA, farms must meet certain criteria. "Our farms are all involved in environmental stewardship schemes, and must be inspected by a quality assurance scheme, such as Farm Assured British Beef and Lamb."

The DFA has been supported by The Duke of Cornwall since its inception. "HRH Prince of Wales kindly allows us to use his Dartmoor watercolour painting of the clapper bridge on the Walla Brook in our branding, and it's hugely encouraging to have his support, alongside some start-up funding from the Duchy of Cornwall," Norman tells me.

Since 2008, the DFA has evolved as a membership association with a focus on increasing awareness about good practice through farm walks, expert talks and events. It all began when Andy Bradford, now a DFA director, took a group of Dartmoor farmers and staff from the Dartmoor Hill Farm Project to Switzerland. The strong connection between the development of tourism and agriculture in the Lenk area, where cheese was the main produce, soon became apparent. Without cows grazing the mountain slopes each summer, the conditions for skiing would not be right, and without skiing there would be no tourism.

There seemed to be a similar relationship on Dartmoor, where the grazing cattle and sheep are essential for the maintenance of the accessible landscape that attracts so many visitors, while struggling hill farmers were keen to find ways to add value to their meat production by creating a premium brand.

Currently, sheep and cows grazed on the moors by DFA farmers are slaughtered at Gages Farm in Ashburton, keeping both stress to the livestock and food miles to a minimum. This ultimately shows in the quality and flavours of the meat. It may be a constant challenge for individual farmer suppliers to achieve the consistency of product required by the local food chain, but the hard work pays off. The DFA has provided an umbrella brand with strong values, and many customers are attracted by their desire to use a local supplier.
Going Native
The DFA meat supply includes native breeds such as South Devon, Ruby Red Devon, Galloway, Welsh Black and Aberdeen Angus beef, plus Scotch lambs and traditional white and grey-faced Dartmoor sheep. These traditional breeds all suit slow-maturing grass-based diets. As the cost of manufactured inputs rises, the more traditional breeds and methods become more sustainable, while helping to maintain the beautiful open landscape.
In The Know
Research carried out on Dartmoor in 2009 by Exeter University's Professor Buller found that there are health benefits from eating red meat raised on grass diets. Traditional Longhorn cattle and sheep grazed on natural grasslands help maintain biodiversity of plant species and this richer diet translates into tastier and healthier meat.
Professor Buller explains that more attention should be given to place-based labelling of foods. "The British notion of local has become far too fixed on distance. Locality should be about the quality of the place and the relationship between the agricultural and ecological landscape," he says.