
Cooking with Game
Thomas Elson-Knight, BBC MasterChef finalist and Head Chef at the Royal Oak in Meavy, shares his top tips for cooking with game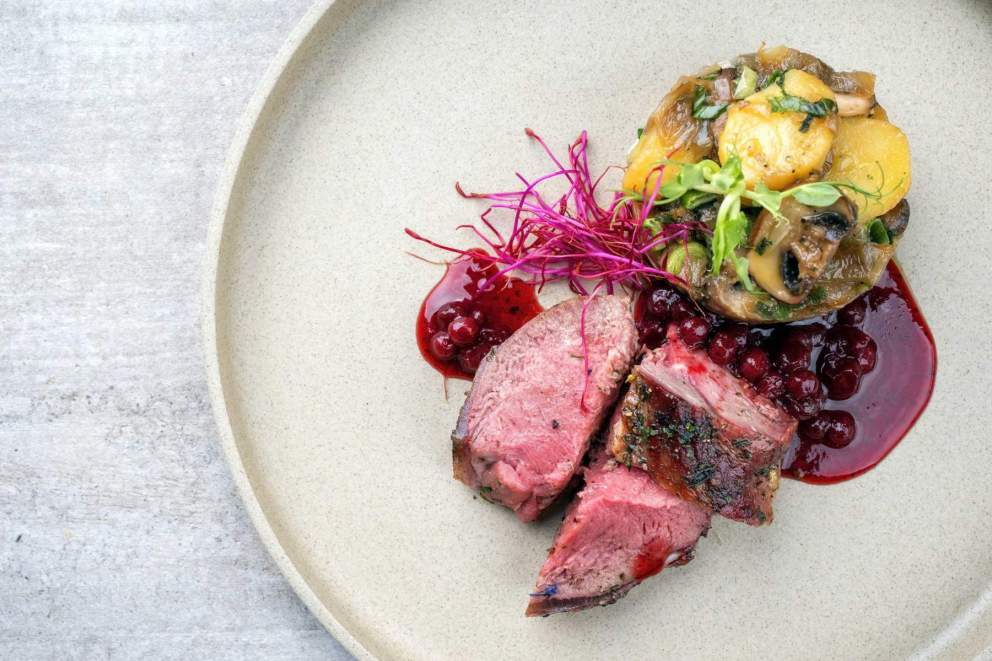 If you're new to eating game, my first tip is to start with a mild-flavoured meat, then build up to stronger flavours. For example, try a guinea fowl roast, which cooks beautifully like a roasted chicken, and doesn't have such a strong flavour that might put you off trying other game birds.
Always pluck game birds at room temperature – the feathers come away more easily. If you don't want the mess, with a bird like a pheasant, skin it then wrap it in streaky bacon. The bacon protects the flesh from the direct heat of cooking, much the same as the skin would. This method also saves time.
When cooking small cuts of game, such as venison loin or pigeon breast, cook it to rare or medium-rare. This meat is so lean, you don't want to overcook it – too long in the pan and it goes from very tender to very tough, very quickly. Remember to always rest the meat after cooking.
Venison skirt is usually thrown away as it contains so much silver skin. If you dice it into large pieces and cook very slowly, it melts the silver skin and gives you a rich, velvety sauce. Swap into your favourite casserole recipe, and cook gently on a low heat for 8–10 hours at 120°C/275°F/gas mark 1.
Be brave and try new things! Game is such a versatile meat that when cooked perfectly, it delivers far more flavour than its more run-of-the-mill counterparts.
If you want to try game, I suggest swapping chicken for pheasant, pork for wild boar and beef for venison. Wild boar tenderloin, cooked quickly in a hot pan, served on a rich tomato sauce is divine!