
Primary Ingredients
Cookery lessons are back on the school agenda. Anna Turns explores how we can – and why we must - engage our children in the subject of nutrition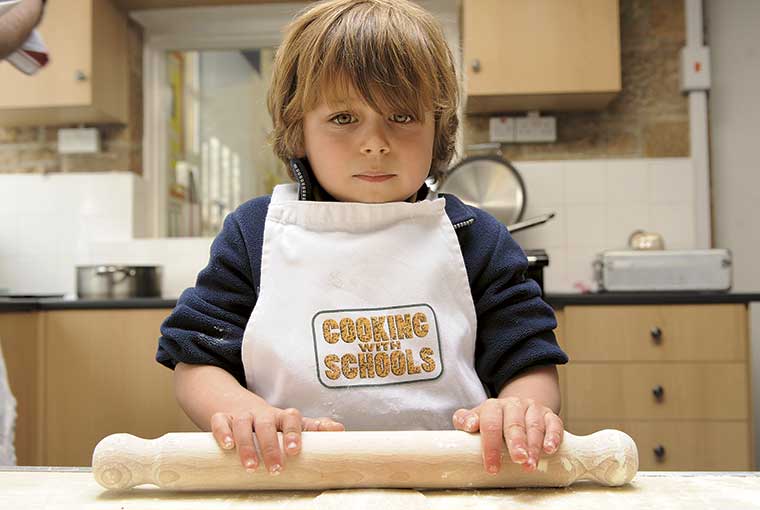 Food is an engaging subject, whatever your age. Preparing and cooking wholesome, affordable meals is a fundamental life skill, and our young children have an instinctive appetite for learning how to cook, so we should nurture this.

Enter the School Food Plan, an independent review of school food conducted by Henry Dimbleby and John Vincent, founders of LEON healthy fast food chain. They defined 16 key actions which are currently being implemented, such as changes to the curriculum, plus universal free school meals for all reception, Year 1 and Year 2 pupils across England. As part of the School Food Plan, Ofsted has incorporated the school dining environment into its guidance for inspectors, and the Department for Education has awarded contracts to partner organisations to increase take-up of school meals and set up breakfast clubs in poorer areas.

There is pressure on primary schools to step up to the increased free school meals agenda. The government is paying to reinstate kitchens that had previously closed in smaller schools, and while some headteachers are worried about implementing this policy, the belief is that it can be done. Education Catering Manager for Plymouth City Council, Brad Pearce, project manages the Small Schools Taskforce pilot. His job is to develop sustainable ways for schools with fewer than 150 pupils to provide school meals. "Economies of scale make this project viable in the long-term, so new multi-functional kitchens allow for teaching too," explains Brad.

Payhembury School is a rural Victorian school building with 76 pupils – it is installing additional cooking equipment in its village hall to provide school lunches. Near Bideford, Parkham Primary School and Buckland Brewer School a mile away are joining forces – a new kitchen at one school provides lunches for all 84 pupils. "We start with a basic two-week menu plan and introduce local producers, while engaging staff, pupils and parents to make informed choices," says Brad. "Payhembury is proud to cook parsnips grown two miles from the school – ultimately, food recognition is key."

With cookery and food education compulsory on the National Curriculum for 2014, some schools are having to put new education facilities in place to teach the new cookery and nutrition syllabus. Many teachers are embracing these changes, cooking more and teaching a greater variety of skills. Studying food at school can not only brighten up a lesson, but can incorporate aspects of geography, biology, maths and hygiene.

Hatherleigh Primary School recently installed an ESSE kitchen facility, in advance of the new cookery syllabus. TV chef Tim Maddams from River Cottage in East Devon was invited to cook with Key Stage 1 and 2 children. "I introduced them to the 'A to Z' of food, highlighting where it comes from and how it ends up on our plates," explains Tim, who taught children to cook a vegetable barley risotto for their teachers. "We discussed taking responsibility for food as a valuable resource, and why food waste and seasonality are big issues."


He continues: "Children need one decent hot meal a day, and if they are not getting that at home, it's great they'll be able to regularly eat properly at school. Combine that with inspiring our children to enquire about food and create recipes, and we'll have a much healthier future." It all boils down to teaching children to make healthy-eating choices, at school and at home.
New Syllabus
The new cookery and nutrition syllabus 2014 aims to teach children how to cook and apply the principles of nutrition and healthy eating.
Key Stage 1 pupils should be taught to:
Use the basic principles of a healthy and varied diet to prepare dishes.
Understand where food comes from.
Key Stage 2 pupils should be taught to:
Understand and apply the principles of a healthy and varied diet.
Prepare and cook a variety of predominantly savoury dishes using a range of cooking techniques.
Understand seasonality and know where and how a variety of ingredients are grown, reared, caught and processed.