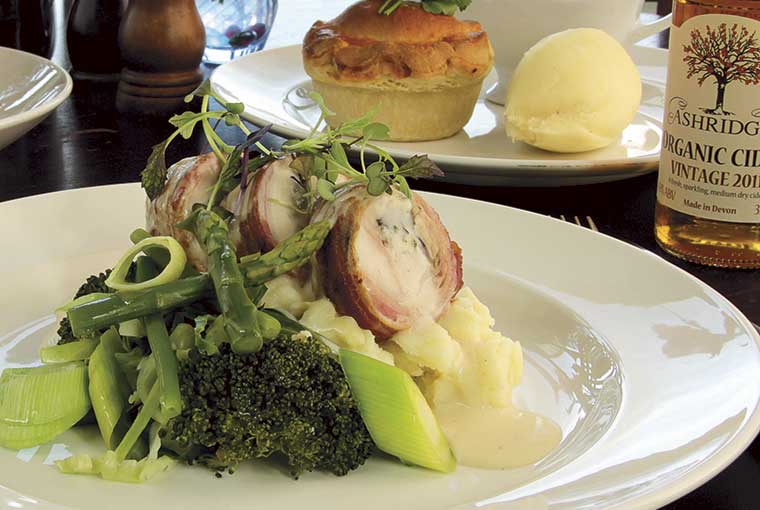 We had a particularly early Sunday lunch date at The Orangery Restaurant at Powderham Castle. I blame our ever-ravenous toddler for the need to book at 12 noon on the dot. However, I shouldn't have worried that we would be the first there. The restaurant was a happy hubbub of families and couples already enjoying their lunchtime fare, and when we were shown to our table by the friendly Catering Manager Christine Holmes, our daughter was delighted with the toys and crayons put out for her amusement.
We could choose from classic dishes such as pie and mash (with a veggie option), burgers (ditto), baguettes and sandwiches, light meals, or, as we did, from the specials board. We delved straight into a main course: Jeff chose the thyme-roasted pork loin, while I had the beef lasagne, something I had been hankering after for a while! The lean pork came with a 'pleasing' salty crackling and a noteworthy apple and rhubarb sauce. The gravy too was expertly portioned – just enough to moisten the meat and beef-up the creamy mash and asparagus. 
All dishes were thoughtfully presented. My lasagne neatly fitted into its elegant square bowl, and the flavours were a perfect balance of rich tomato-imbued meat and creamy pasta sauce. Our daughter, meanwhile, was equally enthusiastic about her herby sausages, cauliflower, new potatoes and 'purple cabbage'. We eagerly devoured our generous portions. (What was that again about being a little early for lunch?)
The use of fresh, wholesome ingredients and the home-cooking style extended to the dessert board. My apple and forest fruits crumble, shared with my daughter, was packed full of tangy red fruit and served with the sweetest of custards, all presented in a pretty earthenware bowl. Jeff's treacle and almond tart was also served warm, its thin crunchy base perfectly offsetting its rich, sticky, treacly filling. 
Having wiped our plates clean, and feeling replete, we ventured outside to wander around the adjacent courtyard, plant sales area and various shops, before a stroll around the estate. The Orangery is really worth a visit – a fool-proof combination of quality ingredients and good honest cooking.