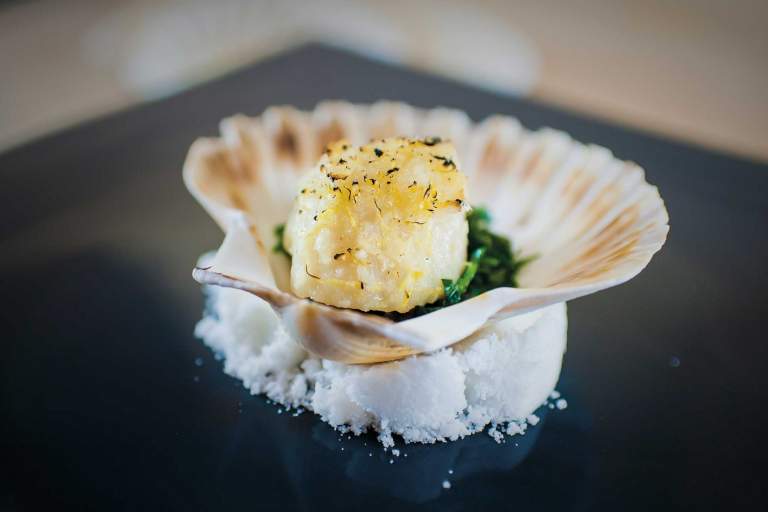 Located on Torquay Harbour, the sea virtually lapping at our feet, this restaurant has a casual vibe but the food is worthy of its 'fine dining' description. We were seated upstairs where there is a huge window with a Harbour view. It was packed – locals know about this place, so do make a reservation.   
We met the chef, Tom, who discussed our dietary requirements. His father, Nigel Ward, is a fish merchant at Brixham, so the fish here couldn't be fresher. We relished the appetiser of whiskey-cured smoked salmon with crème fraîche, along with some olive bread and tomato butter.   
To start, my husband chose the "rich and delicious" cassoulet of venison sausage, cuttlefish and white beans. I had the tikka masala fillet of red mullet with onion jam, savouring the mullet and its spiciness (not chilli-hot). The accompanying bhaji was also packed with flavour.  
The turbot, chips and peas were the best fish and chips my husband had eaten. The fresh fish came with rosemary-infused rosti chips – he would have eaten more! Pickled onion shells contained a homemade tartare sauce. Sticking to a spicy theme, I had the monkfish, aubergine rice and Goan curry. All elements were obviously handled by an expert chef. 
My cardamom and orange crème brûlée had a little square of brownie and two slices of fresh orange on top of its sugary hat. My husband plumped for cheese, with five to choose from, served with crackers, cucumber and chutney.
When food is this delicious, I want to return!
Katy loves: the high standard of cooking, the attentive staff, the Harbour view, the fresh fish, the brûlée's mini chocolate brownie