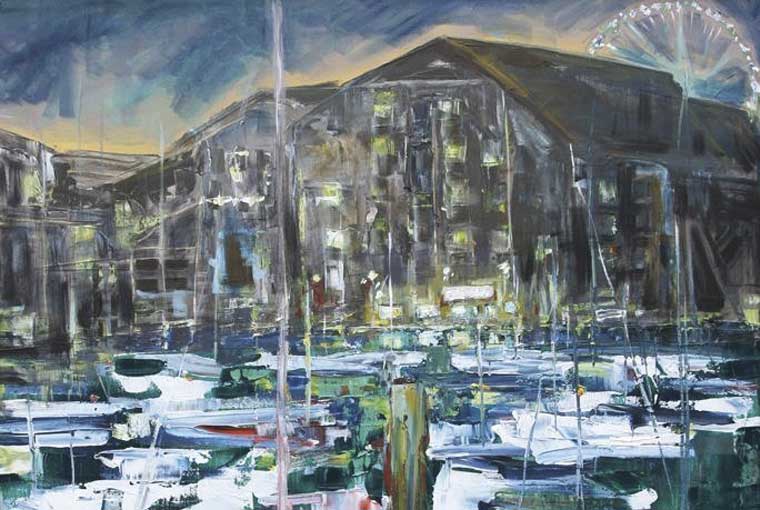 On a rainy summer Sunday our spirits needed lifting, so a lunch at the Dolphin House Brazzerie in Plymouth was just the silver lining required. Situated on a quaint and quiet cobbled street overooking Sutton Harbour, the family-friendly restaurant delivered on both taste and setting. 
Dolphin House specialises in modern British cuisine with international flavours, with selections for every palate, from meat and fish (including a pre-book fruits de mer experience) to vegetarian and a specials board.
To start, I chose the summer pea soup, which was delicately flavoured and pleasingly chunky, topped with fresh leaves. The accompanying parmesan crisp was quickly devoured by my sons! Nick, my husband, decided on the seafood plate, containing seared scallops, crispy squid, and crushed peas that delivered a hit of freshness. The portion size was ideal – enough to enjoy the experience whilst leaving room for the main courses. 
Talking of mains, I plumped for the Devon outdoor-reared pork belly. The pork, braised in local cider, fell apart and melted in the mouth, and had a perfect crispy top. It was served with baked apple stuffed with onion and chorizo, apple puree and a light asparagus, fennel and chilli salad that perfectly complemented the meat. Nick had the sea trout with Cornish potato salad and grapefruit hollandaise; he declared the fish was cooked to a nice consistency and the potatoes had a perfect new-crop taste.
Dolphin House welcomes families with children and happily accommodates smaller, less adventurous appetites, with smaller portions of the main menu dishes or child-friendly alternatives. Our boys rated the triple-cooked chips as "excellent"!
Although generous, the meals were not too huge as to exclude desserts! My chocolate delice was served with a raspberry gel, spiced raspberries and yoghurt ice-cream – it was light and delicious, with a subtle taste. Nick plumped for the lemon meringue pie with an icy granita, and he was enthusiastic about the low-key level of sweetness and combination of flavours. The boys were fans of the clementine sorbet, if the speed of the plate clearing was anything to go by!
We were lucky to be seated at a table in the window, with a view of the boats, and the nautical theme continued inside, with dramatic large photographs of local scenes and a laid-back colour palette.  
Head Chef Nick Coltrell is the proud owner of a Craft Guild of Chefs Rising Star Award 2015 and a Graduate Award Finalist; from the food we tasted, we can clearly see why he deserves those accolades. The ethos of using ethically sourced local produce is evident in the menu selection and the whole experience was a delight – the sun even came out as we left!