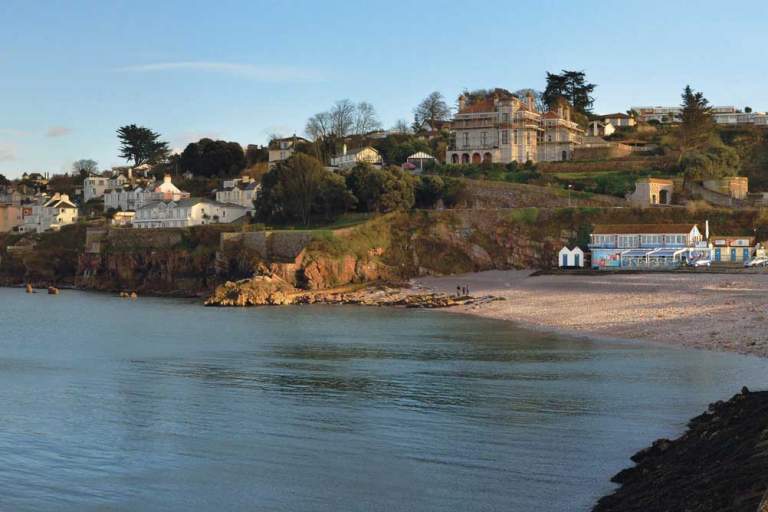 We arrived at the Breakwater Bistro on a Friday night. It was busy with plenty of happy diners chattering, which gave it a vibrant, buzzy atmosphere. The Bistro has a well-earned local reputation – this was not the school holidays, after all, and it was full of people. We were seated upstairs in a faux-grassed area that has a removable roof for warmer days and nights. I thought this was an appealing and innovative idea.
As our table was on the first floor, the view was impressive: the lights of local moored-up boats and Torbay towns were twinkling at us through the restaurant's very large windows. 
The tables are covered with vinyl cloths – this is not fine dining as such. The Breakwater's motto is: "We don't aim to be the best restaurant, just your best restaurant." It is relaxed, comfortable, and good for a family gathering. While I was there, three generations sat at a neighbouring table celebrating a birthday. The waiting staff were very busy but accommodating and friendly.
We had an excellent meal with plenty of the local fish that Brixham is so well-known for. The wine list was short but well focused. We chose the draught beer – the new Bay Brewery craft lager, which was a great choice, offering surprising depth and complexity.
I started with garlic prawn kebabs, which were delicious, with just the right amount of garlic butter and bread to accompany them. I could have eaten them all over again. My husband had the panko-coated squid – he thought the rings were mouth-watering and well cooked. The combination of crunch from the crispy coating and the soft squid interior was delectable and the homemade tartare sauce complemented it well.
I chose the fish pie for main course. This flavoursome dish had a good balance of fish, and there was cheddar cheese in either the mash or sauce or both. The pie was also the right size – not so much that I couldn't finish it and not so little that I was left hungry. My husband had the paella; the dish it was served in did not do it justice, as it seemed much larger when tipped onto the plate, and it was full of shell-on prawns, chorizo, white fish, mussels and squid. The variety of seafood made it very interesting – every mouthful was different and united by the back note of perfectly cooked saffron rice.
For dessert, we chose the white chocolate and raspberry crème brûlée, and the bread and butter pudding with vanilla ice cream, both of which were homemade. The crème brûlée had raspberries scattered throughout, and the bread and butter pudding did not have too much custard. This pudding was moist and spiced without being overwhelming.
The Bistro's uncomplicated meals are cooked well and served promptly. It was closed the next day for a wedding, and I could definitely imagine this being the perfect venue for a function. It is a great combination of fun atmosphere, idyllic setting and tasty food.